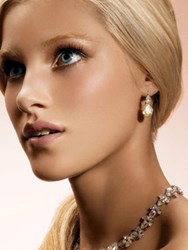 rated for quality and ready for gift wrapping at under $50
Miami, FL (PRWEB) December 15, 2012
With less than 10 days for Christmas, customers who have yet to do their holiday shopping will find TheBeautyPlace.com's 2012 Holiday Under $50 Gift Guide ideal for their budget and time. Agadir oil hair treatments, Macadamia Natural Oil hair masks, and styling tool holiday sets which include a hair dryer, flat iron, and curling iron are a few of the beauty products at under $50. The highest rated for quality and ready for gift wrapping are featured.
Bio Ionic MINI StyleWinder Rotating Iron with a 3/4'' barrel creates small to medium curls. Creating curly hairstyles is easy with the rotating barrel design. It drops from $90 to $39.99 when featured in the holiday gift guide. To use the curling wand, a 2 inch section of hair is wrapped around barrel, barrel should be released and curling iron barrel turns releasing curled section of hair. The barrel is coated with Nano-Ionic Technology which helps curled hairstyles last longer and prevent frizz. The Bio Ionic curling iron heats up to 410 F and comes.
The Glo Minerals Smoky Eye Kit drops from $37.00 to $25.99. The mineral makeup quad eyeshadow kit brings a makeup tutorial for the "perfect application of eyeshadow", stated Rebecca, lead beauty specialist at TheBeautyPlace.com. The mineral eyeshadow contains antioxidants A, C, E, and green tea extracts to moisturize skin and protect eye are from free radicals.
TIGI Bed Head Styling Products After Party Smoothing Cream, Ego Boost Leave-In Conditioner, Dumb Blonde Smoothing Stuff, Smoothing Lusterizer are on sale at under $20. The popular salon hair products smooth, condition and texturize hair and help manage fine, thick, curly or coarse hair.
Joico K-PAK Color Therapy Shampoo and Conditoner drop from $28.99 to $19.99 for the liter sizes with pumps. The K-PAK Color Therapy line maintains "hair color vibrant and rich-looking", said Rebecca. The set prevents frizz and fly-aways.
Macadamia Natural Oil Hair Mask at TheBeautyPlace.com, Healing Oil Treatment, and Travel Sets are all under $50. The salon brand formulates its hair care line with macadamia nut and argan oils. The two hair oils can repair dry, damaged hair and condition and moisturize all hair types. The Macadamia oil for hair is ideal for use before creating any heat styling. The hair serum protect hair strands from breakage caused by the high temperatures of hair straighteners and curling irons. The most popular is the Travel Set which includes everything needed for cleansing, conditioning, treating and styling hair in one convenient travel bag.
TheBeautyPlace.com is a leading online company of "top brands at affordable prices." From skin care to hair care and everything beauty, TheBeautyPlace.com strives to offer clients and prospective clients excellent customer service and fast shipping of beauty products right to their door.
Follow and Like TheBeautyPlace.com:
On Pinterest: pinterest.com/thebeautyplace/
On Twitter: @TheBeautyPlace
On Facebook: Facebook.com/pages/TheBeautyPlacecom/125435188536?ref=ts
TheBeautyPlace.com Blog: blog.thebeautyplace.com
Jennifer Ramirez
TheBeautyPlace.com
877-392-8827