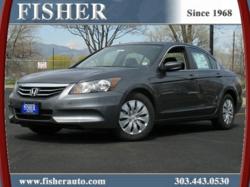 Boulder, CO (PRWEB) April 26, 2012
Everyone at Fisher Honda in Boulder has long been proud of their ability to provide drivers throughout Colorado with a wide array of vehicles at great prices. They are currently offering the following deal: drivers who come to Fisher Honda within the next four days can lease the 2012 Accord for zero money down and a mere $239 per month for 36 months! For qualified lessees, American Honda will make the first month's payment up to $500. This is a great deal, but it won't last long, so drivers who are interested in leasing the 2012 Accord would do well to make their way to Boulder, Colorado's Fisher Honda sooner rather than later.
Fisher Honda is proud to present the 2012 Honda Accord to drivers in the greater Denver area. Drivers have long enjoyed Honda's flagship sedan for its mixture of comfort and pure practicality. The 2012 Accord boasts one of the largest backseats of any mid-sized sedan in addition to offering 14 cubic feet of space in the trunk, making this a vehicle that's ideal not only for moving the family around town, but for transporting luggage and other things as well. In other words, it's an ideal family vehicle.
There is, of course, no need to worry about the 2012 Honda Accord lacking in other areas, though. The base engine is a 2.4L four-cylinder engine that's capable of 177 hp and 161 lb-ft of torque while still being capable of up to 23 mpg city/34 mpg highway. The other option, for drivers who want a little more pep in their Accord experience, is a 3.5L V6 engine that can produce 271 hp and 254 lb-ft of torque while still being capable of up to 20 mpg city/30 mpg highway. Of course, these are just the numbers for the 2012 Honda Accord Sedan, which is what's currently available through this phenomenal lease deal. Drivers who are interested in something a little sportier, though, will want to visit Fisher Honda to check out the 2012 Accord Coupe.
Drivers who are interested in leasing a 2012 Honda Accord for only $239 per month with no down payment should head to Fisher Honda within the next four days. Honda will even cover the first payment! Of course, Fisher Honda has a number of other new and pre-owned vehicles to suit a variety of needs and budgets, so visit their dealership in Boulder to see everything that they have to offer.