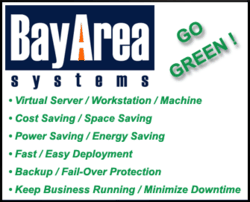 Bay Area Systems(BayAreaSystems.com) provides virtual testing platform for Microsoft's Windows 8
San Francisco, CA (PRWEB) May 09, 2012
Bay Area Systems, a premier Information Technology (IT) consulting provider in San Francisco Bay Area, is on the forefront of providing cost-effective IT outsourcing solutions for small businesses.
Starting June 1st 2012, Bay Area Systems will begin a new service providing Virtual Machine testing platform for Microsoft's Windows 8. The solution and services aim to provide small businesses testing environment that can be conveniently and quickly set up to provide compatibility testing for software, data, performance. The virtual testing platform offers excellent energy savings, rapid rebuild or restore capabilities, easy, management, as well as space and cost saving.
Microsoft released beta version of Windows 8 in early March, 2012, and it brings many new features such as integration of SkyDrive cloud services, which allows users to save files to SkyDrive, create folders to organize files, and synchronize documents, photos, and Favorites across devices; Metro apps that can open files from and save to SkyDrive; the Windows Store, and also includes the Internet Explorer 10 platform preview. Hardware features include the ability to run Windows 8 entirely off a USB key.
Windows 8 is designed to work equally well with tablets as well as with traditional keyboard and mouse, supporting hardware from tablets, netbooks, laptops, desktops, and even home entertainment center. Although the final version of Windows 8 is still months away, having a platform for testing will allow companies to try out new features, as well as test existing application integration.
In Windows Server 8, more new features aimed in reducing technological complexity while increasing system stability are introduced. New features in storage pools and storage spaces can be used to support mirroring, clustering, file servers, Hyper-V and SQL Server; as well as access to locally or remotely manage storage devices.
BayArea Systems' Virtual Machine Testing Platform solutions can be implemented via secure Virtual Private Network (VPN) to provide the ultimate security and encryption. Only key strokes and mouse pointer movements are sent via the remote desktop session, instead of transferring files and data, further reducing risk of sensitive data transmission being hacked.
BayArea Systems have fully tested and deployed many Hyper-V Virtual Machine solutions to solve customers' growing needs of accessing office computing environment from multiple locations, as well as cost saving as they no longer need identical sets of workstations and software to use at each location. Efficient use of more powerful computing environments also ensures a much better performance, lower cost of ownership, and higher return on investment.
For almost a decade, Ba yArea Systems has provided cost-effective computer systems and network support and services to small businesses all around the San Francisco Bay Area. BayArea Systems LLC has become a pioneer in providing customized technology solutions that are efficient, cost-effective, and improve bottom line of small businesses. Bay Area Systems' business model is based on their passion to provide the best customer service experience in the industry, and building long-term business relationship with their customers.