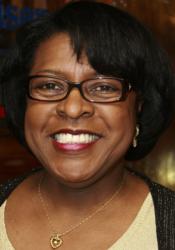 I look forward to challenging my listeners to be their best selves, particularly in the face of today's economic realities.
Cleveland, OH (PRWEB) April 10, 2012
Elaine Greaves, Leadership Expert and Coach, today announced the launch of Leadership Talk with Elaine B Greaves, a weekly live call-in radio show debuting on Tough Talk Radio Network on Thursday, April 12, at 10:00 a.m. CT.
The show is designed to provide listeners with perspectives on how to meet their personal and professional goals via thought provoking and enlightening interviews with a variety of diverse guests.
Leadership Talk with Elaine B Greaves will explore leadership and management strategies with guests who have made a difference professionally – in business, industry or socially – and who have beaten the odds, or have taken non-traditional routes to success and emerged as effective and influential thought leaders in their sphere of influence. Listeners who are looking for instruction on moving their professional and personal lives to a greater level of success can obtain guidance from those already making a difference in the lives of others.
"I look forward to challenging my listeners to be their best selves, particularly in the face of today's economic realities," said Greaves, an attorney as well as President and CEO of Season to Success, Inc., a speaker, leadership expert and coach and co-author of the #1 one best-selling book, Unbreakable Spirit: Rising Above the Impossible.
Tony Gambone, founder of the Tough Talk Radio Network and producer of Leadership Talk said, "I can't tell you how excited and honored I am to have Elaine as part of the Tough Talk Radio Network Team. We are happy that our listeners will have the opportunity to learn the leadership skills and much more that Elaine provides. She and the experts that will be on her show will provide so much to our listeners across the country and around the world. Elaine, thank you for bringing your show to the Tough Talk Radio Network."
Greaves is particularly excited that her first guest will be Dr. HC Smith, Founder, Chairman and CEO of HC Smith Ltd which, for the past 25 years, has provided executive search and recruitment for mid to senior level leaders of businesses, education, government and not for profit organizations. Dr. Smith also has interests in three global business ventures and is Member of the Board of The Peter F. Drucker and Masatoshi Ito School of Management (Claremont, California).
He is widely sought after as a presenter across the country on such issues as management and leadership, self-development, executive talent, human relations as well as best practices in diversity and inclusion.
To listen to the show, go to Tough Talk Radio.
If you are a Leadership Expert and wish to be a guest on Leadership Talk, or for more information on the host, go to the website.