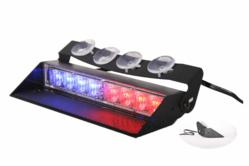 "We really enjoyed the opportunity to meet our customers face-to-face and talk with the officers who our led emergency vehicle lights protect,"
Sand Diego, California (PRWEB) October 26, 2012
911 Signal USA unveiled its newest led dash lights for emergency vehicles at the International Association of Chief of Police Annual Conference in San Diego earlier this month.
The Witel Dash Light is an emergency lighting unit that provides an impressive array of features to police officers on the road. The chance to present it at the IACP conference was not only good for business, but fulfilling as well, said Chris Dallmann, 911 Signal USA's managing member.
During the IACP conference, police officials from around the world participate in educational workshops, network, hear about matters that affect law enforcement and explore new technology in the conference's exhibit hall. In fact, the conference features the largest exhibit hall of products and services available to the law enforcement community.
Educational opportunities at the conference ran the gamut from best practices for information sharing among agencies to ways to identify impairments in older drivers. Virtually any topic related to law enforcement was covered either during a breakout session or in the exhibit hall.
Because thousands of law enforcement officials attend the conference, it's a great place to introduce the latest in safety equipment options, like 911 Signal USA dash lights.
Dash lights help police cruisers be noticed from a variety of angles. The led dash warning lights are fundamental to police officers' safety while on patrol or when responding to an incident.
To ensure the officer's safety, it's vital that dash warning lights can be seen in all types of weather and at all times of day. 911 Signal USA Witel Dash Lights are well-suited for inclement weather because of the penetrating, high-contrast quality of their LED elements.
Police officers will also find the Witel Dash Light simple to use and helpful as the unit can store as many as 30 flash patterns in memory. Guide lights on the back of the unit allow officers to quickly recognize the pattern and make adjustments if necessary. Suction cups attach the dash warning lights to the cruiser's windshield, and the dash lights can also be synced together so an officer can use two units in his or her cruiser.
For more information about 911 Signal USA's Witel Dash Lights, please visit http://www.911signalusa.com/dash-deck-c-25.html
About 911 Signal USA:
911 Signal USA provides a full array of specialized lighting and equipment for emergency vehicles, including lights bars, dash lights, fog lights, sirens, speakers and beacons. Visit http://www.911signalusa.com for complete product listings