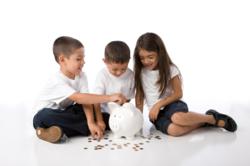 Los Angeles, Ca (PRWEB) August 17, 2012
August 18th is Lemonade Freedom Day, and the National Financial Educators Council encourages youth to start a lemonade stand business. To support their efforts, the NFEC is providing a Project Based Learning activity from the Financial EduNation Campaign that helps educators and families teach kids about money.
The Lemonade Stand activity is provided complimentary through the NFEC's Financial EduNation in an effort to support families and educators that seek an engaging way to teach kids about money and business. Participants learn to budget, understand the cost of goods, determine sales prices, create marketing material, get experience with sales, understand risk and break even points.
"For many, the lemonade stand was their first experience with starting a business. It sparked that entrepreneurial fire that started them down the road to self-employment," states Vince Shorb of the NFEC. "I encourage everyone to visit lemonade stands and encourage the kids running the stand with your kind words and generous tip."
As stated on the LemonadeFreedom.com website, "The lemonade stand is one of the great symbols of entrepreneurialism. When a child opens a lemonade stand, that child is learning how to operate a business, how to provide a product, and how to be a productive member of society all while having fun."
The NFEC strongly suggest having an adult on site to watch over the children's safety while still giving them the freedom to run their business. They also suggest that the adults act more as mentors. Let the kids make mistakes and give them constructive feedback in a positive way. Encourage them to think like they are potential customers and watch as their money and business skills progress throughout the day.
The NFEC is a social enterprise organization that is on a mission to provide the financial, career and business skills to help today's youth achieve their goals. The NFEC's collaboration with educators, business leaders and financial professionals make the financial literacy curriculum practical for the youth that receive instruction. The Financial EduNation Campaign is a national movement that encourages people of all ages to improve their financial knowledge and capabilities.