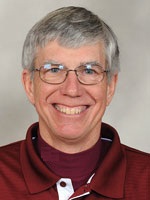 Coach Stitcher has a coaching style that encompasses knowledge and positivity.
San Rafael, CA (PRWEB) May 14, 2012
After anxiously awaiting placement in the 2012 NCAA Division III Softball Championship the No. 17 Salisbury University softball team learned that it will be headed to Christopher Newport University as the third-seed in the first round of the tournament.
The Sea Gulls (35-5) will square off with sixth-seeded Ferrum College (35-12) at 2 p.m., on Thursday, May 10. Salisbury won the program's 17th Capital Athletic conference championship and is makings its 17th overall NCAA tournament appearance. The Panthers captured the automatic qualifier from the USA South Athletic Conference and are making their third NCAA tournament appearance.
Assisting this program to its successful year is long time Nike Softball Camp director, Tom Stitcher. Stitcher is responsible for the Nike Softball Camp at Salisbury University this summer and plans to conduct his camp in a similar structure to his collegiate practices.
"NIKE Softball Camps is honored to once again be offering a softball camp with Tom Stitcher" Mike de Surville Vice President of US Sports Camps stated. "Along with his proven track record this season and success in past years at Salisbury, with 17 overall NCAA appearances, Coach Stitcher has a coaching style that encompasses knowledge and positivity."
Stitcher has been assisting the Sea Gulls for the past 18 years, pushing the team to the NCAA Division III Tournament the past fifteen seasons and to the Division III World Series in 1998, 2001, 2003, 2004, 2005 and 2009 finishing 2nd in the nation in 2003 and 2005. In 1999, 2001, 2003, 2004, 2005 and 2009 the Salisbury coaching staff was selected as the Division III Atlantic Regional 'Coaching Staff of the Year.'
The team is on track to have another strong finish in the NCAA Division III Tournament before Stitcher shifts his gears to directing NIKE Softball Camp this summer. For more information on his camps please visit http://www.ussportscamps.com/softball/nike/salisbury-university/
About US Sports Camps
US Sports Camps (USSC), headquartered in San Rafael, California, is America's largest sports camp network and the licensed operator of NIKE Sports Camps. The company has offered summer camps since 1975 with the same mission that defines it today: to shape a lifelong enjoyment of athletics through high quality sports education and skill enhancement.
Players, coaches, parents and others interested in the 2012 Nike Softball Camps can visit http://www.ussportscamps.com/softball or call 1-800-645-3226.