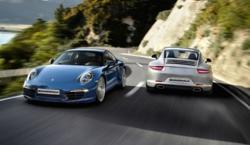 The 911 has become a cultural icon of performance and we are excited to share the new 911 with all of our customers in Dallas.
Dallas, Texas (PRWEB) January 16, 2012
There have only been six generations of the 911 in its illustrious 48-year history. On February 9th, Boardwalk Porsche will give customers in North Dallas their first opportunity to see the seventh generation, the 2012 Porsche 911.
It is more than the next 911. It's Porsche's vision for the future of the sports car, as evidenced by even more power from less fuel. Proving once again that despite over 60 years of making history, it's making history, yet again. "The 911 has become a cultural icon of performance and we are excited to share the new 2012 Porsche 911 with all of our customers in Dallas," said Mike Marsh, General Manager of Boardwalk Porsche.
From every angle, it is unmistakably a 911, holding true to the Porsche 911 Carrera "evolution, not revolution" design philosophy. No fewer than 90% of the components of the 911 are either new or have been fundamentally revised. This is Porsche's approach to the preservation of tradition.
The extended wheelbase now has an additional inch more of leg room in the front than in previous 911 models. Sportiness in harmony with comfort is the theme reflected in the clever ergonomics that characterize the entire interior design. The materials used, the layout of the controls and their operating logic belong to a new generation of sports car. Another new design for the new 911 is the elevated center console. Its intelligent operating concept follows a clear principle of direct simplicity.
The first new 911 models will arrive at Boardwalk Porsche beginning in February of 2012. Brian Ongaro, Vice President of Sales and Marketing for Boardwalk Auto Group said, "The demand for the new 2012 Porsche 911 in Dallas is unprecedented and we look forward to serving Dallas and the surrounding communities with the ultimate Boardwalk Porsche customer experience."
About Boardwalk Porsche
Staffed with the finest sales professionals and automotive technicians in the business, Boardwalk Porsche translates Porsche's legendary track proficiency into an extraordinary customer experience. As a member of Boardwalk Auto Group, Boardwalk Porsche cultivates a focus on top-flight performance serving Dallas, Fort Worth and Plano, Texas. Boardwalk Porsche is one of the highest-rated Porsche dealerships in America at Boardwalk Porsche on DealerRater.com.
About Boardwalk Auto Group
Boardwalk Auto Group is one of the premier auto groups in the nation representing Porsche, Audi, Ferrari, Lamborghini, Maserati, and Volkswagen. Learn more about Boardwalk Auto Group at http://www.BoardwalkAutoGroup.com.
###