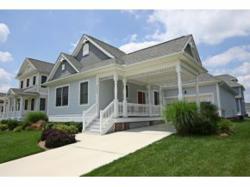 Bethany Beach, Delaware (PRWEB) December 18, 2012
ResortQuest Real Estate in Delaware & Maryland has compiled a list of the top 10 real estate properties from coastal Southern Delaware viewed on ResortQuestDE.com in November 2012.
Half of this month's list is made up of some of the outstanding properties at the Sea Colony Beach and Tennis Resort in Bethany Beach. But it was a 3-bedroom single family home in the golf resort community of Bayside that garnered the most attention.
1. 36466 Wild Rose Circle, Bayside, West Fenwick - 3BR, 2.5BA single family home
2. 59002 Freeport Court, Sea Colony, Bethany Beach - 3BR, 2BA townhome
3. 30866 Ocean View Place, White's Creek at Bethany - 5BR, 4.5BA single family home
4. 8 Port Royal Road, Cottages on White's Creek, Ocean View - 3BR, 2BA single family home
5. 37454 Breezy Cove, The Refuge at Dirickson Creek, Selbyville - 4BR, 3.5BA single family home
6. 53021 Lakeshore Court, Sea Colony, Bethany Beach - 4BR, 3BA condo
7. 21001 Greenway Court, Sea Colony, Bethany Beach - 3BR, 2BA condo
8. 212 Georgetowne House, Sea Colony, Bethany Beach - 3BR, 2BA condo
9. 38383 River Birch Drive, Keen-wik, Selbyville - 5BR, 3.5BA single family home
10. 22004 Summerwalk, Sea Colony, Bethany Beach - 3BR, 2.5BA townhome
About ResortQuest Delaware & Maryland
Since the early 1970s, ResortQuest Delaware has provided real estate sales, vacation rental and homeowner association management services to Bethany Beach, Sea Colony and other fine communities in Delaware's Quiet Resorts and the surrounding coastal areas. With offices in southern Delaware and Ocean City, Md., the company offers comprehensive vacation rental services to more than 860 vacation rental properties. ResortQuest is consistently a real estate market leader for listings, sales and listings sold in southeast Sussex County, according to the Sussex County Association of REALTORS® Multiple Listing Service. Its homeowner association management division represents the needs of more than 3,700 homeowners in 45 associations from Lewes to Fenwick Island, Delaware.