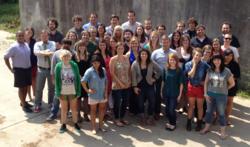 New Orleans, LA (PRWEB) September 25, 2012
Search Influence, a New Orleans SEO and online marketing company and the largest Google AdWords Partner on the Gulf Coast, is giving back to the community with its first "non-profit adoption." Search Influence will be donating online marketing services and expertise with Google AdWords and Google Grants to Youth Rebuilding New Orleans, a New Orleans non-profit which provides affordable housing for teachers and runs development programs in New Orleans schools.
"My co-founder and I have wanted to adopt a non-profit for years but until now, we haven't found the right opportunity," says Will Scott, co-founder of Search Influence. "Youth Rebuilding New Orleans is the perfect partner for us. We believe in their mission, and we're confident our expertise in online marketing and Google Grants for AdWords will make a big difference for them. In the past, we have increased revenues by as much as 500% for clients taking advantage of the program, and we are confident we can help Youth Rebuilding New Orleans maximize this grant and make a big difference to the area."
"We are so pleased that Search Influence has adopted our non-profit. With their expertise and professional staff we can now effectively reach additional volunteers and potential homeowners. The help and guidance is invaluable," says YRNO Executive Director, William Stoudt.
According to Mr. Scott, "Many non-profits are eligible for Google Grants, but most don't take full advantage due to lack of knowledge and resources. At Search Influence, we wanted to address that challenge and thought that working with Youth Rebuilding New Orleans would be a great way to start."
With 12 Google AdWords Certified professionals on staff, New Orleans-based Search Influence is now the most qualified AdWords company in Louisiana and one of the most qualified in the Southeast. A recent in-house qualification initiative resulted in nearly 75% of the Account Management Team passing Google's rigorous certification exams. With 45 full-time employees, more than 60 contract employees and 2 years on the Inc 500 / 5000 list, Search Influence is in a great position to give back to the community. YRNO is well positioned for growth with online marketing support from Search Influence.
Youth Rebuilding New Orleans engages local youth in the recovery of the New Orleans area. Volunteers reduce blight by rebuilding distressed and foreclosed homes. The finished homes are then sold to teachers to stabilize neighborhoods and have a positive impact on the education system. In addition to rebuilding homes, Youth Rebuilding New Orleans produces leadership and training programs in New Orleans schools.
Through their partnership with Search Influence, Youth Rebuilding New Orleans will be able to help more teachers, students and neighborhoods as they build a better New Orleans.
About Search Influence:
Founded in 2006 by Angie and Will Scott, Search Influence is a national, full-service, online marketing company based in New Orleans. SEO, Social, and Online Advertising solutions are their focus for thousands of direct and white label customers. Currently, the company manages over $300,000 per month in Google AdWords advertising for its clients, and, as a Google AdWords certified partner, keeps its growing team up to date with internet marketing skills relevant to SEO services, social media management, and paid online advertising. As the only New Orleans company on the 2011 Inc. 500 list, ranked #749 on the 2012 list, Search Influence boasts 45 full time employees, an in-house production team and more than 60 contract employees.
To contact website promotion company Search Influence or get involved with YRNO, visit http://www.searchinfluence.com/ or contact the office at 8120 Oak Street, New Orleans, LA 70118 or (504) 208-3900.