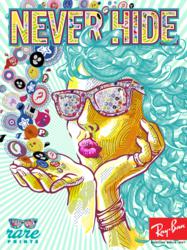 Ever since their spectacular comeback in the early 2000s, when indie/boho-chic celebrities like Chloe Sevigny and Mary Kate Olsen started wearing vintage Wayfarers.
(PRWEB) August 21, 2012
Year after year, a number of sunglasses brands manage to stay on top of all the others. Most often, it's reputable Italian, French and American labels, with a valuable heritage and lots of experience in the field. Some top brands are exclusively eyewear producers, while most of them are famous fashion houses that had something to say in the accessories business. Measured in sales, media exposure, Internet searches, and with the expertise of the GlassesOnWeb.com purchasing manager, here are the top 5 sunglasses brands of 2012:
1. Ray Ban. The American brand has been a market leader for years. Ever since their spectacular comeback in the early 2000s, when indie/boho-chic celebrities like Chloe Sevigny and Mary Kate Olsen started wearing vintage Wayfarers, the brand only went up. Up in sales and up in popularity. This is by far the most popular brand among both celebrities and regular people – they're affordable, they're often unisex, they look good on anyone and they come in a surprising variety. The Wayfarers are the model most often seen on celebrities, with over 2,600 spots, according to CelebritySunglassesWatcher.com. Following closely are the classic Ray Ban aviators, the Clubmasters, and then several variations of these styles.
2. Chanel. If it's Chanel, then it's chic – this is what most fashionistas would say when faced with the choice of a designer brand. The French label offers guaranteed satisfaction to the customer, and their Luxottica produced sunglasses only do the same. The signature style of Chanel sunglasses is oversized and dark, like Nicole Richie and Ashley Olsen love to wear. The rounded shape is a celebrity favorite - plus, it goes so well with the Chanel 2.55 purse!
3. Prada. We could just say Miuccia Prada, because both Prada and Miu Miu have been trendsetters this year. The Minimal Baroque collection is definitely a celebrity favorite, with fans among the Kardashians or Rihanna. Bold and demanding attention, with curvy temples and an oversized full rim, Prada's sunglasses are a fashion accessory more than anything else. Miu Miu follows with interesting cat eye and hexagonal shaped sunglasses in bright colors and patterns.
4. Tom Ford. A product of the Marcolin Italian group, Tom Ford sunglasses are characterized by an interesting type of semi-rim: most frames feature lenses disconnected from the rim, which creates cut-outs at the sides. Charlize Theron and Lady Gaga love them alike, as they won't go unnoticed, but they're still wearable. Acetate is the material of choice, which allows for a wider color range.
5. Gucci. With sunglasses produced by the Safilo Group, Gucci keeps one of the top places on the market. The Italian label has a long history of manufacturing quality goods, and is renown worldwide, which makes the customers trust this name. From Angelina Jolie to Miley Cyrus, everyone is a fan of their aviators, and some of their oversized, plastic frames have been sported by Gwen Stefani or Lauren Conrad.
About
GlassesOnWeb.com is online eyewear store that went online in 2001 and currently features over 5,000 products, including designer frames, eyeglasses, sunglasses and prescription lenses.
Product quality and service is what sets GlassesOnWeb.com apart from other online eyewear retailers.
For further information, please call 1-877-404-7667 or visit http://www.glassesonweb.com.