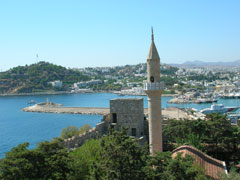 I have known some people who chose to go it alone and ended up getting confused about why they had paid more for their property than the value stated on their Tapu
(PRWEB UK) 18 May 2012
The Tapu is one of the most important documents you can have when investing in Turkey property, but what happens when the details are incorrect? Asks Colordarcy.com.
Loxley McKenzie, Managing Director of Colordarcy.com said "It is easy to get carried away when investing in overseas property, we often only focus on the cash we will make from an investment in growing property markets like Turkey.
The property doesn't cost much and we'll cover the costs when we rent it out so what is there to worry about?
However when it comes to your money, being complacent is not the best way to go as some unfortunate investors in Turkey have realised."
Like any legal document, the Tapu needs to be in order otherwise it can have a major impact on things like your future tax liability both in Turkey and in your home country advise Colordarcy.com.
McKenzie added "While investing in Turkey can be a very straightforward process if you use a reputable agent, I have known some people who chose to go it alone and ended up getting confused about why they had paid more for their property than the value stated on their Tapu.
Say for example you have just invested in a new build property costing £70,000. If you look closely at your Tapu the value is stated as 70,000 YTL. This means the actual value of the property on your legal documentation will be shown as the equivalent of £24,000.
Mr friendly developer might put an arm around you and say "hey forget about it, this is just how things are done here, nothing to worry about. Between you and I, we do it to avoid paying too much tax on the sale."
Things might work out ok in the short term, after all you have the legal documents you need and can happily start enjoying the returns on your investment. The developer is happy because he gets to keep more of the profit from the sale.
But what happens, if say less than 5 years later you decide you want to sell? The picture then gets a lot muddier. You dig out the Tapu, however you don't speak Turkish and can't understand what is written.
Still at least you will have nearly 5 years of capital growth on your investment to fall back on if there are any problems.
The likelihood is you will need it.
There is now a real possibility that your investment will be liable for CGT, not on the profit you made over and above the £70,000 you originally paid, but also on the difference between that and the original Tapu valuation of £24,000 Mr friendly developer told you not to worry about."
So how do you avoid this happening?
Make sure you hire a good lawyer, say Colordarcy.com, to ensure all the paperwork, including the Tapu, is 100% correct. This way you will avoid any headaches when it may be time to sell in the future.
Click here to review our Turkey property portfolio.
Notes to the editor:
Colordarcy is a leading property investment company that specialises in finding positive cash flow investment properties worldwide. Colordarcy investment property portfolio includes some of the best properties for sale in Atlanta, Brazil, Florida, Turkey and the United Kingdom.
For more information, supporting pictures or logo artwork, please contact:
Steve Billing
PR Manager
Tel: +44 (0) 207 100 2393
Email: press(at)colordarcy(dot)com
Web: http://www.colordarcy.com/