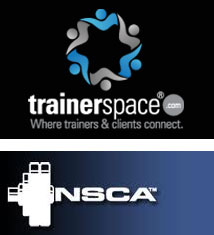 "NSCA certified personal trainers are some of the best in the business and Trainerspace.com is very pleased to be able to give them the recognition they deserve". – Cary Reichbach, CEO, Trainerspace.com
Boca Raton, Florida (PRWEB) December 14, 2012
The National Strength and Conditioning Association, best known as the worldwide authority on strength and conditioning, and Trainerspace.com, the popular US based web destination where fitness professionals can create their own hi-profile, geo-targeted web presence in just seconds, will now be working hand-in-hand to promote personal trainer awareness, education, and marketing of NSCA's Certified Personal Trainers.
Potential clients will easily be able to identify NSCA certified trainers by search function and custom NSCA logo badges, allowing both newly certified NSCA trainers as well as NSCA veterans a competitive edge in attracting new clients in a marketplace full of competing personal training certifications.
Trainerspace.com will also help to keep all personal trainers and fitness professionals current in their perpetual need for continuing education credits by using its vast social media resources to maintain awareness of all of NSCA's seminars, symposiums and conferences.
Founded by United States military veterans, Cary Reichbach and Thomas Puhl, Trainerspace.com is also involved in helping military veterans returning from Iraq and Afghanistan begin rewarding careers as fitness professionals. Says Trainerspace CEO Cary Reichbach; "Soldiers know the importance of staying in tip-top physical condition, making them excellent candidates for fitness careers. And the current job outlook for personal trainers is bright indeed. Fitness employment is projected to rise 27% through 2016 – much faster than the projected national average".
Trainerspace.com is a virtual one-stop shop for all things personal training and the only destination for fitness professionals who are truly passionate about their careers. Prospective personal training clients may search Trainerspace.com for a personal trainer for free by any number of criteria including zip code, city, state, or specialty. If you would like more information about this topic, please contact Thomas Puhl at 772 323 7946 or email at tommy(at)trainerspace(dot)com.