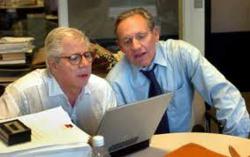 ...thrilled to have KPCC as the official radio sponsor.
Hollywood, CA (PRWEB) February 22, 2012
The Los Angeles Press Club has recruited two major sponsors for its 54th Annual Southern California Awards Gala—the earliest signing in recent memory of the media organization that traces its origins back to 1913 and beyond.
Wells Fargo is the first Gold Level corporate sponsor while Southern California Public Radio's KPCC, 89.3 FM, has come on board as the event's radio sponsor.
Both sponsors will have high visibility at the June 24 Awards Gala honoring former Washington Post investigative reporters Bob Woodward and Carl Bernstein on the 40th anniversary of Watergate at the Millennium Biltmore banquet that will also award SoCal journalists for their best work in 2011.
The awards competition that includes print, broadcast and online entries closes March 30. Early Bird reduced fees end on Leap Day, February 29.
"Were thrilled to have the award-winning news station KPCC as the official radio sponsor," said LA Press Club President Will Lewis. "KPCC will be involved with the club in presenting a series of Watergate panels leading up to the banquet, including a showing of the award-winning Warner Bros. film, 'All the President's Men,' starring Robert Redford as Bob Woodward and Dustin Hoffman as Carl Bernstein."
The Watergate panels will be held at the club's headquarters in Hollywood—the Steve Allen Theater—and at KPCC's The Crawford Family Forum in Pasadena.
The Gala will also honor CBS2/KCAL9 investigative reporter David Goldstein as the 2012 winner of the coveted Joseph M. Quinn Memorial Award for lifetime achievement and KCET's SoCal Connected team for the Public Service Award for their series on questionable spending at LA's Housing Authority.
# # #