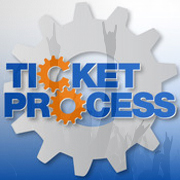 Ticketprocess.com is currently selling US Open tickets to tennis fans at incredible prices.
(PRWEB) September 04, 2012
The 2012 US Open is about half way through the large brackets that will determine both a men's and women's singles champion over the next week, and Ticket process is currently selling US Open tickets to tennis fans at incredible prices. New York City is the longtime home of the historic and prestigious tournament, and anyone that lives in the region or will be visiting in the next week would be wise to peruse the selection of tennis tickets that are offered at TicketProcess.com. Customers can shop with the confidence of knowing that the website has a 125 money back satisfaction guarantee.
As is typically the case, several surprises have unfolded within the developing plot line, and one of them involves an occurrence off of the court. American Andy Roddick shockingly announced after the first round that this tournament would be the last of his professional career. Evidently, the fact the he turned 30 rocked his world, and he is now prepared to leave the sport, which will leave the state of men's American tennis and its lowest in recent memory. Anyone that wants an opportunity to see Roddick fly all over the baselines one last time needs to act now on the opportunities that TicketProcess.com is offering.
Women's #2 seed Agnieszka Radwanska was beaten by 20th-ranked Roberta Vinci in a match that Radwanska would later call one of the worst performances of her career. In other action, Serena Williams dominated 26-year-old blonde Czech Andrea Hlavackova, 6-0, 6-0. The shutout victory was taken in stride by the younger and much lesser-ranked player, who admitted that her and her coach had a bevy of concerns and fears going into the match. Williams advanced to the quarterfinals with the victory, where she will face 12th-ranked Ana Ivanovic. She will be highly favored in that match as well as the next one if she is to advance, which could setup a possible finals matchup between Williams and Maria Sharapova.
The men's bracket has unfolded without any on-court surprises of great magnitude, and nine of the top 12 ranked players are still in contention for the title. A knee Injury prevented Rafael Nadal from contending for this year's trophy, but both Roger Federer and Novak Djokovic are mowing through the competition and heading toward a battle in the final round that would certainly have the attention of the tennis world. Visiting TicketProcess.com is the single best way to get in on the action. Visit the site often as the are always having promotions and discounts, currently offering sporting events, and concert events at lower prices.