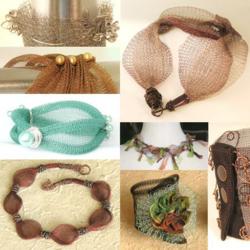 With many design applications already developed, there are still so many more to be discovered.
Royal Oak, MI (PRWEB) March 16, 2012
WireKnitZ®, the innovative copper wire tubular knit, is pleased to announce the launch of its much anticipated online shopping experience http://www.WireKnitZ.com. Customers now have the opportunity to purchase any of the five WireKnitZ® Series and many of the tools used to manipulate this unique new wire textile. The new website intends to inform, engage, and excite ones artistic appetite with informational videos, free tutorials and Blog.
Due to the extraordinary tactile qualities, not only do the Authorized WireKnitZ® Dealers continue to be an invaluable resource, but provide personal hands-on instruction as well as components complimentary to embellishing their customers' designs. However, the company realized it couldn't expect the Dealers to blanket the world in WireKnitZ® alone; so they have decided to help spread the newZ by adding instructional videos, free tutorials and Blog to interact more personally and frequently with all of their customers.
Recognized for its supple, flexible and lightweight similarities to many fiber textiles, WireKnitZ® shares its versatility and provides the structural integrity often desired for a variety of projects. From craft to couture, and fashion to fine art, WireKnitZ® lends itself to an array of styles from vintage to contemporary. WireKnitZ® is the new knitted wire medium for mixed media artists and designers; stretch, stitch, roll, bead, braid, weave, layer and shape…nothing goes to waste. WireKnitZ® is available in three knit styles, two widths, two wire gauges and a polyurethane enamel finish in a kaleidoscope of colors.
About WireKnitZ®
WireKnitZ® is a registered trademark of Visuals in Presentation, Inc.
WireKnitZ® is privately owned and operated by Norma Melton of Southeastern Michigan.
For more information, please visit http://www.WireKnitZ.com, or call Norma Melton at 248.544.1911.
Connect with us on Facebook
###