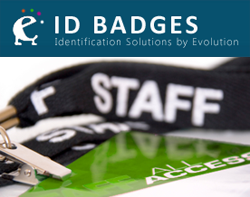 we worked hard to improve web site usability to better serve our customers
Skokie, IL (PRWEB) January 18, 2012
"Evolution ID Badges invested in a new web site and rebranding effort to assist our renewed focus on our core business offerings in the access control and identification markets" commented EIB's CEO Caryn McCoy. "Over the course of many months we worked hard to improve our web site usability while greatly expanding our product catalog to better serve our customers. It feels great to finally be able to announce these improvements to the public."
With four main sections available from every page of the new site, visitors can easily find solutions for ID Card Printers, ID Card Software, ID Badge Supplies and Custom Printing services. A comprehensive search feature has also been added to make the site even easier to use "our catalog is now so extensive, especially categories like badge reels, that even though the new design is easy to use we quickly realized we needed another solution to to help customers search through the 1000s of available products" said Caryn.
The new site is not only a visual redesign, it more accurately reflects the company's direction as a complete personal identification and access control solutions provider. The web site now contains a growing library of identification application information, geared to inform and educate current and prospective clients in need of ID card solutions and services.
About Evolution ID Badges
In business for over 12 years Evolution ID Badges is an experienced provider of ID card technologies, specializing in Photo ID Card systems, ID Badge accessories and support. Privately owned and headquartered in Skokie, Il, Evolution ID Badges is a value-added business partner with many leading hardware and software providers including HID Global, Evolis, Brady Worldwide, Inc. and Jolly Technologies.
###