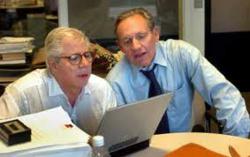 ...an LA Press Club Award continues to be a mark of distinction
Hollywood, CA (PRWEB) January 23, 2012
Despite the continuing downsizing of local newsrooms at print and broadcast outlets in 2011, Southern California journalists again produced stories of prize-winning caliber.
With its Call for Entries, the Los Angeles Press Club is seeking last year's best work on all media platforms, including online and the social networks, for its 54th Annual LA Press Club Awards. It's the largest media awards program in the Southland.
"The citation on a reporter's resume that he or she has received an LA Press Club Award continues to be a mark of distinction," said LA Press Club President Will Lewis.
The contest has lowered the fee to enter the Journalist of the Year category and added Best College and Best High School Newspapers. It expanded some broadcast categories to include online audio and video, including podcasts and streaming and added Best Broadcast and Best Print Websites..
Also new this year: Social Media has a category of its own for Best News Tweets and Facebook Presence.
Journalists will save over 20% on entry fees if they apply before March 1 and take advantage of early-bird rates. Final deadline is March 30.
Finalists will receive plaques and certificates June 24 at the Awards Gala honoring legendary Washington Post reporters Bob Woodward and Carl Bernstein, marking the 40th anniversary of Watergate and their groundbreaking investigative reporting that eventually led to President Nixon's resignation.
The Los Angeles Press Club, the largest and oldest journalistic organization in the Southland, traces its beginnings to the early years of the 20th century. Its membership is open to reporters, editors, bloggers and photographers who file on all media platforms.
Its primary mission is to encourage and reward serious journalism in Southern California.
###