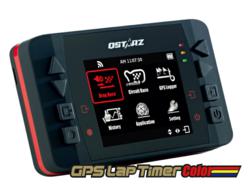 When we showed our rider the data he was very impressed that from the fastest section times he could see what his ultimate lap time could be if he put all the best split times together in a single lap.
Ashburnham, MA (PRWEB) January 31, 2012
Just in time for the 2012 racing season QSTARZ International of Taipei, Taiwan has released their newest addition to a well received line of GPS devices which includes the very popular BT-Q1000eX. The new LT-Q6000 is the first GPS Lap Timer with a color display, based on 10Hz GPS technology which allows racers to track, analyze, and compare their racing performance. The display shows progress instantly while on the track. Then data can then be downloaded to a PC for analysis to help determine improvements to be made for the next session on the course. A GPS Lap Timer with a Color display and racing analyst software rich with options at a very affordable cost. The QSTARZ line is available through Rising Sun Cycles LLC, a leading supplier of Grand Prix racing supplies in the USA with business worldwide. http://www.rscycles.com
Color display shows racing performance changes every tenth of a second
QSTARZ engineers know racers are striving to improve with every second. The LT-Q6000 GPS Lap Timer was designed to give the racer instant feedback of their performance by using color changes on the display and 10Hz GPS technology to take performance to an entirely new level. Racers will be able to see their progress precisely and clearly. Whether Drag Racing, Circuit racing or Rally, the color display shows changes in performance by changing color. To compare the current lap to the previous the display shows Green to show a faster lap, Red means a slower than previous lap. The LT-Q6000 GPS Lap Timer helps racers to know their progress and make instant decisions even at extremely high speed without trying to concentrate to read the equipment display.
User friendly with instant data recall
This is a professional high quality lap timer for all levels of racers. The LT-Q6000 QSTARZ GPS Lap Timer provides the best information for tuning the team's race vehicle and for improving the racer's skills. Racing history such as best lap time, section time, max speed, average speed, G-value…etc can be easily reviewed.
Powerful Racing Analyzing Software.
Improving racing performance has never been easier. QSTARZ GPS Lap Timer is packaged with the QRacing 3.1 software to analyze racing data. QRacing 3.1 supports graph statistics to analyze and plot racing data. Racers will also welcome the G-force display, G-value distribution status and track view integration with Acceleration/Brake line. In addition to the outstanding racing data analysis feature, QRacing 3.1 software will also synchronize up to 9 videos with track data for playback. This gives a full experience of racing efforts and a better understanding of improvements that can be made the next time on the track. Steve Aspland of Rising Sun Cycles said "When we showed our rider the data he was very impressed that from the fastest section times he could see what his ultimate lap time could be if he put all the best split times together in a single lap." QSTARZ software is not currently compatible with an Apple computer.
Price & Availability.
With more than 10 years experience with GPS technology and the company's ambition of leading the industry, QSTARZ International of Taipei, Taiwan announced the LT-Q6000 GPS Lap Timer with color display at the price of just $449 USD. The unit comes nicely packaged in two configurations. The LT-Q6000-CX includes a windshield suction mount and the LT-Q6000-MX has a motorcycle handlebar mount. Both mounts can be purchased individually if you plan to move your device between vehicles.
For more information about this GPS Lap Timer, please go to http://www.rscycles.com/qstatz_timer.htm
About Rising Sun Cycles
Rising Sun Cycles has been importers of new and used Yamaha and Honda Grand Prix Road Racing Motorcycles and replacement parts and accessories since 1997. RSC offers OEM and aftermarket products needed to keep grand prix machines on the race track as well as maintenance tools and accessories needed for the improvement of the racing effort such as partnering with award winning Qstarz GPS timing devices. Rising Sun Cycles also sponsors various racing organizations such as the USGPRU.net who promote Grand Prix racing in the USA. Visit Rising Sun Cycles web site at http://www.rscycles.com.
###