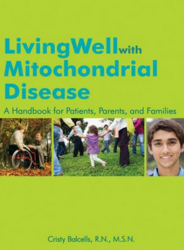 As a society, we'll be hearing more and more about how
mitochondria impact heatlh, aging, and disease
Boston, MA (PRWEB) March 16, 2012
Most people don't know much, if anything, about mitochondrial disease. Even in the medical community, this disease is little known.
When her daughter Eva was in the process of being diagnosed with Mito, Balcells was looking foranswers and support but there were none to be found. That is part of the reason Balcells, the executive director of Boston-based MitoAction, wrote this book. In "Living Well With Mitochondrial Disease," Balcells discusses how the mitochondria work, how Mito is diagnosed and treated, and how to live well with the disabling symptoms. And it's written in easy to understand prose.
Estimates suggest that one in 2,000 people will face a diagnosis of mitochondrial disease. Mito is a chronic, progressive disorder that occurs when the mitochondria of the cell cannot produce enough energy for cell or organ function. The severity of Mito symptoms differs from person to person and symptoms can first appear in infants, children, teens, or adults. Common symptoms include poor growth, loss of muscle coordination, muscle weakness and pain, seizures, vision and/or hearing loss, gastrointestinal issues, learning disabilities, and heart, liver, or kidney failure. Mito is also related to autism, diabetes, Alzheimer's, and Parkinson's.
"I felt compelled as a nurse, as a mother of a child with Mito, and as a tireless advocate for families that it was time for this resource," Balcells said. This is the first book written for patients and families about mitochondrial disease.
"We're seeing a surge in new patients. As a society, we'll be hearing more and more about how mitochondria impact heatlh, aging, and disease."
The book is available from Woodbine House, Amazon.com, and Barnes & Noble.
For more information, please visit http://www.mitoaction.org/living-well-mitochondrial-disease