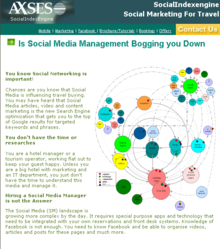 SocialIndexEngine is the latest marketing tool developed to assist professionals in
the hotel, tourism and travel industry.
Bridgetown, Barbados (PRWEB) March 08, 2012
AXSES SocialIndexEngine strikes a cord in hotel marketing.
Like most privately owned resorts, the http://travel2exoticplaces.com/blog/travel-to-exotic-marigot-bay-for-the-ultimate-escape has been successful in attracting a steady, loyal clientele to its villa-style hotel through word of mouth, distribution and conventional hotel marketing. In order to enhance its visibility as the most exclusive, romantic resort in the Caribbean, the owners knew they must step up their marketing efforts.
They turned to the Internet and decided to try Social Media and Direct Marketing. With all the talk about Social Indexing and how Search engines where looking at one's Social Profile, page rank, sites and their authors, Marigot concluded that this might be something to check out. The hotel management also wanted to build more direct business and rely less on Online Travel Agents that were eroding its margins and depreciating the brand.
Lacking the budget to hire a knowledgeable, full-time employee and to purchase the software necessary to launch and manage a widespread social media campaign, Marigot Beach Club turned to AXSES, a pioneer in travel marketing technology.
Within the first six months of deploying the http://socialindexengine.com (SIE), bookings doubled and search rankings shot up a level.
"In a short amount of time, our strategic system places clients on the top search results and embeds them in social media and the internet," explains Ian R. Clayton, CEO of AXSES and author of "How to Build Your Business Online".
Each campaign is optimized by leveraging high-profile press releases to both online and offline media. The campaigns include publishing articles and videos, as well as traditional SEO strategies, building important affiliations, back-links and social networks. SIE enables hotel managers to outsource these marketing responsibilities to a company that has spent 15 years helping hotels build sustainable brands to boost direct bookings.
SocialIndexEngine.com is AXSES' latest tool developed to assist professionals in the hotel, tourism and travel industries. A fully integrated Social Media Management and Brand Marketing service, SIE offers a powerful, sustainable and affordable way for the travel industry to reach potential vacationers and drive travelers directly to the hotel website. The innovative software is purpose-built to suit the needs of hotel managers and tourism operators who are ready to launch social media and travel marketing campaigns.
Traditional and new media marketing strategies are combined with an intuitive indexing system that is specifically designed to promote the travel industry using all online media channels including mobile, video, social media, search engine marketing and traditional content marketing and web services. In order to be effective in this age of the +1 and Like buttons, marketing campaigns must embrace fan pages, smartphones, iPads, photo tagging, retweeting and original videos. Using an innovative algorithm, the SIE catalogs this value-added, user-generated content so that it can be indexed, connected and quickly found.
To heighten brand awareness and increase direct bookings, the SIE's automated system also distributes advertising to Facebook Fan Page Posts and Facebook Offers as well as mobile websites, apps and travel booking centers.
The system capitalizes on the AXSES Travel Blast publishing platform, which distributes promotions, advertising, content and videos to hundreds of travel portals as well as social networks, publishing sites, magazine services and affiliate portals, such as http://Travel2ExoticPlaces.com and http://Party-Destination.com .
SIE offers full social media setup, management and advertising services to companies that also need assistance in creating marketing collateral, including website content, blogs and videos. AXSES also offers a complete service to manage the company's social presence, Tweeting and posting exclusive deals on Facebook Fan pages and replying to Fan questions and comments.
Recognized as a Top 10 emerging technology in 2011 by the MIT Technology Review, AXSES understands that Social Indexing is revolutionizing the way content is accessed.
ABOUT
AXSES is a leader in Social Marketing for Travel. It was one of the first companies to develop a direct bookings application for Facebook, and has consistently been an innovator is all aspects of Travel Marketing. In 2011, AXSES was featured by the New York Times in an article on Social Media use in Travel.
The AXSES Social4Travel team works with professionals in the hotel, tourism and travel industries, to help build their businesses through all forms of Social Media and conventional marketing.
AXSES offers free SocialIndexEngine tutorials and newsletters to hotels and tourism operators who are invited to subscribe at the http://arcres.com/SocialindexEngine.cfm#contact