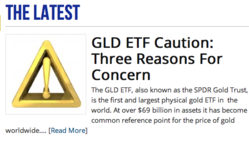 I believe there are significant headwinds for gold and gold ETF products in the short term.
Chicago, IL (PRWEB) March 30, 2012
An article outlining three key findings about gold's price via a gold ETF, has been published on investment site Seeking Alpha. Christian Magoon, publisher of GoldETFs.biz, has analyzed the recent trading behavior and volatility of the largest gold ETF in the world and presents his outlook on the current valuation of gold. In the article, Magoon illustrates through several charts the divergence between the ETF's recent price movements and the ETF's 50 and 200 day moving averages. In addition he examines the gold ETF volatility index as well as the performance of the gold ETF. Together, these unique data points lead Magoon towards a negative short term outlook on gold and the ETFs that track it.
"In the short term it seems as though gold is weakening," said Christian Magoon, Publisher of GoldETFs.biz. "The moving averages and volatility of the largest gold ETF raise my concerns about where the price of gold is going next. While I believe in gold ETF allocations over the long term, I believe there are significant technical and sentiment based headwinds for gold in the short term."
Currently there are over $79 billion dollars invested in physical gold ETFs listed in the United States. Physical gold ETFs own bars of gold which are stored in vaults. These gold bars back the paper shares of the ETF. Leading gold ETF Sponsors in the United States include State Street, iShares and ETF Securities. ETF Securities is credited with launching the first physical gold ETF in the world in 2003.
About GoldETFs.biz
GoldETFs.biz was designed to be a focused, convenient, educational and social source of gold market, ETF and ETN information for investors. The site provides a complete gold ETF list and data, consistent analysis and curated real time gold market sentiment through focused Twitter lists. Visitors to the site can subscribe to the free weekly Gold ETF Report email covering gold markets and the ETFs that track them. Content is also available via YouTube, Google+ or Twitter. Follow @GoldETFsBiz on Twitter.