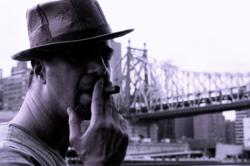 Nostalgia..., mixed, mastered, and produced by George Dugan, is a funky, jazz-gospel record about Hell's Kitchen; a journey through the corners of alleys, crash pads and lost time, which features the Makeshift Dream Orchestra
New York, NY (PRWEB) March 07, 2012
"a heady mixture, and it really works...the work of a talented artist who is paying homage to his inspirations, and laying down a solid foundation from which to build his own thing. Hunter is going to be an artist to keep an eye on as he develops his talent, and this is a great place to start." - Darius Rips
Malcolm Hunter & The Makeshift Dream Orchestra's "Nostalgia in My Square Head" is a jazz and funk-lover's delight with an avant-garde twist. Hunter's lyrical genius is showcased against a background of fluid, sensual, reflective jazz-inspired tracks which evoke an enormous variety of memories, emotions, and recollections. Musically, all of the songs on Nostalgia in My Square Head are unified, yet stand alone equally well, each with its own spin. Hunter demonstrates his range of vocal abilities easily: he vacillates between singing and speaking, and often uses the latter to give spotlight to his splendid songwriting abilities.
Nostalgia in My Square Head begins with "No Kissin'," (click to listen and download free!) a twanging blend of vocals and music transitioning into a funky smorgasbord of scatting, choirs, funk, and jazz. Hunter steers the song with a smooth voice, sounding like a Jason Mraz-meets-Harry Connick, Jr protégé. "Invisible Man" features a raspier lead vocal sing-speaking over a subtle background of smooth, Motown-inspired instrumental arrangements. Hunter is an exceptional lyricist, and "Invisible Man" allows him to showcase his eloquence: "The consequence of my circumstance puts me in the neighborhood of people with no chances left…jonesing on a philosophy that scrapes away the remains of my ambiguous identity…" His lyrics are articulate and the songs are well-crafted to allow full appreciation; the music itself, however, is also a force to be reckoned with. Consistent through the album, there is no doubt who Hunter is as a musician and who his influences are. "Hide n' Sleep" features a two-minute musical interlude that is subtle, but also funky enough to keep the listener's interest, despite the lack of intriguing lyrics. In the same vein as "Invisible Man," "Cross: The Street" features Hunter's raspy spoken-word storytelling; it takes a slightly divergent path from the rest of the album with its quiet, reflective, melancholy feel. "5:30 Bounce/Nostalgia In Times Square" continues the moody observations with a dramatic description of New York's bustling intersection at the close of night, just before the beginning of a new day. The listener can't help but feel as if he or she is looking out at Times Square early in the morning from an apartment's fire escape balcony. The eclectic "Snow in Hades" features a piano-driven intro that grabs the listener's ear and holds on as the song calls on mythology, lurking vampires, and cherubic angels and places them in a modern urban setting. It's lyrically curious, and perhaps the most enigmatic song in which vampires, Hades, Angel Gabriel, and the old East Side neighborhood come together.
Nostalgia..., mixed, mastered, and produced by George Dugan, is a funky, jazz-gospel record about Hell's Kitchen; a journey through the corners of alleys, crash pads and lost time, which features the Makeshift Dream Orchestra. The Makeshift Dream Orchestra is drummer John Digiulio (Little Anthony & the Imperials), Victor Wooten prodigy Michael "Tiny" Lindsey on bass, guitarist Jamie Fox (Jen Chapin), trumpeter Michael Leonhart (Steely Dan, Yoko Ono), and guitarist Jon Herington (Steely Dan). Rounding out the stellar band is all-reed working man Tom Smith, vocalist Melissa Hamilton (The Ritz), blues singer Adira Amram, reggae sensation Meshach, bassist Ivan "Funkboy" Bodley, and trumpeter Rob Henke.
If you have any questions, comments or would like to set up an interview don't hesitate to contact Melissa Zeigler(at)Powderfingerpromo(dot)com.
You can catch Malcolm live on March 20th at Le Pescadeux in NYC. Learn more about Malcolm and see his latest show dates on his website at http://www.malcolmhunter.com