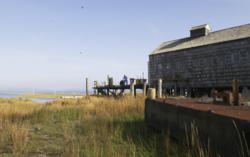 "Pan-fried oysters are especially satisfying on a stormy, early spring day at the beach."
Long Beach Penninsula, WA (PRWEB) March 15, 2012
Long Beach Peninsula chefs and anyone that knows their oysters agree that oysters are tastiest after water temperatures drop, ending the spawning cycle. According to the Long Beach Peninsula Visitors Bureau, for oysters from Southwest Washington's Willapa Bay, that plumpest window falls in March and April.
"Because oysters process nutrients at a higher rate on a growing cycle, oystermen move them to food-rich spots in Willapa Bay," explained Mary DeLong, Port of Peninsula, Nahcotta. "The water being colder, clearer and fresher produces a more succulent flavor in the oysters."
Steaming, mouth-watering pan-fried oysters can be found on menus at sought-out eateries throughout the Long Beach Peninsula. Among them are Jimella and Nanci's Market Café, The Depot Restaurant, Pelicano Restaurant, 42nd Street Café and Bistro, and The Shelburne Inn Restaurant and Pub. Hang town fry – oysters with eggs, bacon, onion and cheese – is another favorite with those who like Willapa Bay oysters served for breakfast at inns and bed & breakfasts, as well as local restaurants.
"Peninsula chefs tend to stick with simple preparations that bring out rather than mask the oyster's delicate flavor," remarked Chris Goodwin, Long Beach Peninsula Visitors Bureau. "Pan-fried oysters are especially satisfying on a stormy, early spring day at the beach though demand for them is year round."
The legendary oyster beds of Willapa Bay have been farmed for many generations. Talented chefs are drawn to this watery region to gain close proximity to these oysters, as well as Columbia River sturgeon and salmon, albacore tuna, halibut, Dungeness crab, razor clams, butter clams, and more. Chefs are continually inspired both from the rich food offerings including foraged mushrooms, as well as the raw and wild nature of this place at the edge of the continent.
Located on the southwestern-most coast of Washington State, the Long Beach Peninsula provides a mouthwatering mélange of restaurants, which share a devotion to the region's untold natural ingredients. Acres upon acres of cranberry bogs and twenty varieties of edible mushrooms thrive under its ideal coastal conditions of moist sea air, fertile sandy soil and protective evergreens. Surrounded on three sides by ocean, river and bay, the Peninsula has an abundance of fresh-caught fish and seafood readily available, giving diners an unmatched opportunity to dine at the source.
With its mix of restaurants, ocean view lodging, unique museums and attractions, lighthouses, fine art galleries, meandering trails, birding spots, and, above all, its long, wide, windswept beach, the Long Beach Peninsula continues to be one of the Northwest's most enjoyable and refreshing beach getaways. For lodging, dining and other destination information, please call the Long Beach Peninsula Visitors Bureau, WA, toll free at 1-800-451-2542 or access http://www.funbeach.com. Interested in more, please follow @DineAtTheSource or like at http://www.facebook.com/DineAtTheSource.