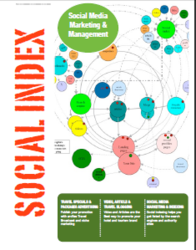 We do the entire campaign for our clients, we create their SIE sales video, articles, blogs and press releases, as well as publish the collateral across the Internet.
Halifax, Nova Scota, Canada (PRWEB) May 04, 2012
SocialIndexEngine.com, for brand marketing in the age of participation, lays out its framework and platform in a new portal. Included are the pillars of its success and case studies showing how it works and why.
Brand marketing is fundamentally changing and the old ways just do not work. Gone are the days when we can tweak a few pages and get backlinks to gain top ranking in search results. With Panda slapping duplicate content, and the recent moves to de-index private blog networks, marketers are scrambling to find a way to get ranked in search results and close more business.
The new rules of engagement require quality content and strategic marketing of videos, mobile and social media, with a clear focus on the consumer. The new SocialIndexEngine (SIE) portal provides clear proof that its concept works and outlines its main pillars of success.
Created by AXSES, the SIE is the sum result of many years of development and integration. "What we have learnt in marketing is that timing is critical and that all parts influence the whole. No one company has put it all together for a single market as we have," says Ian R Clayton, CEO of the company.
Clayton points out that the strategy of marketing is entirely unique in the travel industry. The SIE Brand marketing strategy is optimized around specific campaigns that are orchestrated and managed by the company on behalf of a few, selected suppliers in each market. Only a handful of carefully selected companies are eligible in any market.
For example, a recently launched SIE campaign is Party-Destinations.com (PDC). "What we do is build the travel portals like PDC and invite suppliers to join in marketing their products and services to that niche. We look for a handful of carefully selected products and options and, once we have our core commitment, no more clients will be accepted," says Clayton.
The company selects options with the consumer in mind. Clayton believes that travelers want a fair choice on selected options and do not want to be overloaded with too many options. Travelers are seeking advice and are often overwhelmed with choice and technology.
The SIE strategy is to target a niche globally and then market specific destinations and key products in that market. SIE campaigns get the selected supplier in front of buyers who are looking for simple and easy solutions. The SIE site is marketed extensively using the SIE own purpose built technology and know-how.
"A supplier gets many advantages working with us," says Clayton. "We do the entire campaign for them; we create their SIE sales video, articles, blogs and press releases, as well as publish the collateral. In addition, the partner will be featured in strategic places within the campaign website and network."
The company is inviting interested parties in the travel industry to participate in its current campaigns and be in line for new ones as they unfold. Applicants can sign-up at http://SocialIndexEngine.com
ABOUT AXSES
AXSES is a leader in Social Marketing for Travel. It was one of the first companies to develop a direct bookings application for Facebook, and has consistently been an innovator is all aspects of travel marketing. In 2011, AXSES was featured by the New York Times in an article on Social Media use in Travel.
The AXSES team works with professionals in the hotel, tourism and travel industries, to help build their businesses through all forms of social media and conventional marketing.
AXSES launched several test of the SIE technology in early 2012 and now has many paying customers. While we specialize in tourism, SocialIndexEngine marketing is effective for any business niche.
For more on Social Index Engine contact Ian R Clayton CEO
For information on AXSES contact Kathy Lynn Ward, COO
tel 256 429 2653