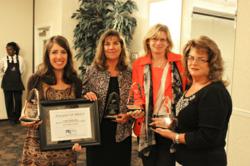 The work we do on behalf of our clients is certainly reward enough, but this just validates that we continually produce creative and surprising services and products
San Luis Obispo, CA (PRWEB) May 22, 2012
Verdin, a marketing agency based in San Luis Obispo, Calif., recently received five prestigious industry awards from the Public Relations Society of America (PRSA) for its creative work in brand development, social media, brochures and events promotions.
On May 11, the PRSA Central California Chapter Image Awards presented four Awards of Excellence and one Award of Merit to Verdin for its self-promotional rebranding campaign, City of San Luis Obispo Events Brochure, Stormwater Pollution Prevention Public Service Announcements, French Hospital Gala events promotion, and Wine Coast Country Savor the Central Coast social media campaign.
"The work we do on behalf of our clients is certainly reward enough, but this just validates that we continually produce creative and surprising services and products," said Verdin President Mary Verdin. "We have such a great team and we have so much fun working together, but we also work strategically to tie everything we do back to our clients' business or organizational goals. I think that really comes through in the final product."
The Central California Image Awards honors works of distinction by public relations and marketing professionals. The Award for Excellence is the top award given by the PRSA. Submissions for the Image Awards are judged against a set of standards instead of each other in 19 categories. Awards were issued for excellence and for merit.
For more information, visit http://www.verdinvision.com or http://www.prsacentralcal.org.
About Verdin
Verdin is a full-service marketing firm in San Luis Obispo, Calif. that has been helping businesses, nonprofits and individuals market themselves in creative and cost effective ways since it began in 2003. Verdin's philosophy is to tie everything it does for its clients back to the client's business goals. The firm takes a professional, friendly, creative and surprising approach to all of its advertising, design, marketing and public relations services. For more information, visit http://www.verdinvision.com.