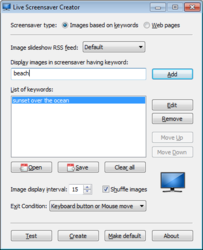 Just type in keywords or web addresses and all corresponding images and websites found on the Internet are going to appear in the screensaver
London, UK (PRWEB) June 13, 2012
Finalhit is today announcing the launch of a new version of Live Screensaver Creator software, which is the first of its kind in the world. Unlike other screensaver makers which require users to use their own images, Live Screensaver Creator offers a search engine approach. Instead of images, users of Live Screensaver Creator enter keywords to describe images or website addresses they want to appear in the screensaver. Live Screensaver Creator then finds the corresponding images and websites on the Internet and displays them as the screensaver.
Live Screensaver Creator is great for displaying images of your favorite celebrities, movies, landscapes, or whatever else you can imagine, for use on your own computer and sharing with friends and relatives. Live Screensaver Creator also allows companies to build screensavers based on their websites and as such, it can act as an advertising tool by displaying corporate websites or showcasing products. The screensaver is created once, but its contents change with every website update.
Live Screensaver Creator is very easy to use. Just type in keywords or web addresses. For example, if you type a word "dream", "love", "sky" or "relax", all corresponding images found on the Internet are going to appear in the screensaver. Similarly, if you type e.g. http://www.finalhit.com, the screensaver will display this website.
You can preview the screensaver at any time and can easily change the keywords or websites to create another screensaver. When satisfied with the results, you can set the screensaver as your default Windows screensaver.
If you want to share this screensaver with others for free, you can build its installation package by using a "Create" option.
Live Screensaver Creator advantages are:

Displays images based on keywords of your choice
Displays websites of your choice
Can be tested and re-created at any time
The created screensaver can be shared for free
Very easy to use
No programming skills are required
Has multi-monitor support
Pricing and Availability
Live Screensaver Creator 2 is available now through http://www.live-screensaver-creator.com website. It runs under Microsoft Windows XP/2003/Vista/7 and costs $9.99(US) for a single-user personal license.
About Finalhit
Finalhit has been producing screensaver maker software since 2001. Finalhit software has been used by thousands of companies worldwide, including Accenture, adidas, Alcatel, BMW, DHL, Ericsson, HTC, IBM, Ingenico, Mercedes-Benz, Motorola, Nestle, NextGen, Nokia Siemens Networks, Novartis, Oracle. Finalhit has been awarded an Intel Software Premier Elite Partner status. For more information, visit http://www.finalhit.com.
# # #
Microsoft and Windows are registered trademarks of Microsoft Corporation. Intel and the Intel logo are trademarks of Intel Corporation in the U.S. and/or other countries. All other trademarks are the property of their respective owners.
Editorial Evaluation Copy Available on Request