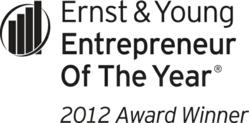 As a Florida award recipient, Duffy is now eligible for consideration for the National Entrepreneur Of The Year 2012 Award.
Boca Raton, FL (PRWEB) June 19, 2012
3Cinteractive®, the leading provider of cloud-based, enterprise mobile solutions for the Fortune 1000, is proud to announce that John Duffy, the company's founder and CEO, received the Ernst & Young Entrepreneur Of The Year® 2012 Award in the technology category in Florida. The award recognizes outstanding entrepreneurs who demonstrate excellence and extraordinary success in such areas as innovation, financial performance and personal commitment to their businesses and communities. Duffy was selected by an independent panel of judges, and the award was presented at a special gala on June 14 at the Hilton Orlando.
Now in its 26th year, the Ernst & Young Entrepreneur Of The Year Program has honored the inspirational leadership of such entrepreneurs as Jeff Bezos of Amazon.com, Michael Dell of Dell Inc., Herb Kelleher of Southwest Airlines, Fred Smith of FedEx, Larry Page and Sergey Brin of Google, Richard Schulze of Best Buy, Andrew Mason of Groupon, Mindy Grossman of HSN, Inc., Reid Hoffman and Jeff Weiner of LinkedIn, and many more.
As a Florida award recipient, Duffy is now eligible for consideration for the National Entrepreneur Of The Year 2012 Award. Award recipients in several national categories, as well as the National Entrepreneur Of The Year Overall Award winner, will be announced at the annual awards gala in Palm Springs, California, on November 17, 2012. The awards are the culminating event of the Ernst & Young Strategic Growth Forum®, the nation's most prestigious gathering of high-growth, market-leading companies.
About 3Cinteractive®
3Cinteractive (http://www.3Cinteractive.com) is an enterprise mobile solutions provider. 3Ci provides the technology and expertise that help the enterprise unlock the strategic value of mobile within their business. Our cloud-based platform, Switchblade, integrates into our clients' systems and extends business and communication processes to any mobile device - turning mobile from an idea into a productivity and revenue enhancement tool. Our platform's multi-channel capabilities and flexible configuration tools allow an enterprise to get to market quickly and stay ahead in a fast-changing mobile environment - while eliminating constraints on internal resources. 3Ci recently ranked 12th on Forbes' list of America's Most Promising Companies. Founded in 2005, 3Ci is a long-standing member of the CTIA and MMA. Follow 3Cinteractive on Twitter @3Cinteractive and on Facebook at http://www.facebook.com/3Cinteractive.
About Ernst & Young Entrepreneur Of The Year®
Ernst & Young Entrepreneur Of The Year is the world's most prestigious business award for entrepreneurs. The unique award makes a difference through the way it encourages entrepreneurial activity among those with potential, and recognizes the contribution of people who inspire others with their vision, leadership and achievement. As the first and only truly global award of its kind, Entrepreneur Of The Year celebrates those who are building and leading successful, growing and dynamic businesses, recognizing them through regional, national and global awards programs in more than 140 cities in more than 50 countries.
About Ernst & Young
Ernst & Young is a global leader in assurance, tax, transaction and advisory services. Worldwide, our 152,000 people are united by our shared values and an unwavering commitment to quality. We make a difference by helping our people, our clients and our wider communities achieve their potential.
Ernst & Young refers to the global organization of member firms of Ernst & Young Global Limited, each of which is a separate legal entity. Ernst & Young Global Limited, a UK company limited by guarantee, does not provide services to clients. For more information about our organization, please visit http://www.ey.com.
###