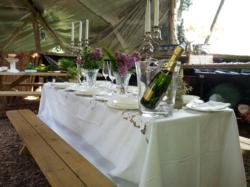 Glamping 2.0 is about much more than a tent in a field
London, England. (PRWEB UK) 26 July 2012
Glamping really emerged in 2009 and has grown consistently ever since - boosted by the staycation trend as modern families search for the pleasures of the simple life.
Super Glamping sub categories are now emerging offering much more than the average glamp camp. Often described as Five Star Glamping or Glamping 2.0 these camps are now defining and competing in the lucrative upper end of the Glamping market.
Glamping 2.0 operator, Windchimes Glamping have 300% year on year growth but despite the success boss Michelle Stonehouse still wishes she had a mentor when starting up. "Operating at the Glamping 2.0 level requires a lot more than a tee-pee or tent in a muddy field. Setting up with the leading franchise operator at the time we got going in 2010 was just too expensive and required investments & commitments that were out of reach so we did it on our own using instinct and sweat equity."
At Windchimes they also realised that to prosper they had to attract business beyond the bread & butter of family breaks, so they expanded the marketing to rustic parties and green corporate events, but again there was no information in the public domain to go by. Now to fill the information gap Windchimes has launched its Franchise business to help those wishing to enter the serious end of the Glamping market.
New Opportunities
Growth in Glamping is still attracting farmers keen to cash in but there are often more failures than successes so rookies need advice & support before they start up. Windchimes Franchise Services offer an end to end service from site feasibility analysis through to operational camps with ready-made marketing & sales teams, website, booking system, secretarial & office resources and go as far as to negotiate supplier contracts for laundry, refuse and cleaning services.
The Windchimes Franchise sales pitch says that "landowners benefit from our experiences through lower investment and a solid shoulder to lean on."
"Having done it from scratch to a very high level we think we can do better for franchisees and that's why we've entered the market" says Michelle.
The best sites have extraordinarily beautiful views, central social areas, and under cover cooking. However, the extras that really steal the show can include massage rooms, spaces for live music shows, yoga classes, indoor dining, therapy treatment rooms and natural swimming options. Landowners & Framers looking to enter the Glamping market are too late for this year in most cases but with a proper plan and dedication to execution Windchimes say you can quite easily be up & running for May 2013, and break even in under two years.
Leading the franchise business is MBA and serial entrepreneur, Lee C. Stonehouse He came up with the strategy, designed the model, and built the franchise proposition and will personally consult, mentor and support the franchisees. Our target is five new franchisees to open for the May 2013 season" says Lee.
Windchimes Glamping Franchise Services can be found at http://www.windchimesglamping.co.uk