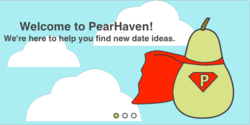 Something as simple as going to a new place for dinner adds some zest and freshness to the relationship.
Austin, Texas (PRWEB) July 31, 2012
Summer vacation will soon be ending and couples will be searching for new date ideas to strengthen and enhance  their relationships. PearHaven.com, a website for dating ideas submitted by its members and for providing innovative date ideas, conducted market research, surveying two hundred participants. PearHaven found that 80% of people from committed relationships found it difficult to think up new dating ideas.
After reviewing PearHaven's submitted date ideas from its members, the number one favorite activitiy of couples was "dinner and a movie" followed by just "dinner."
 Maintaining the thrill and excitement of a couple's initial romantic involvement can be difficult.
Here are six dating tips to help keep a couple's relationship fresh:
1. Choose a new restaurant rather than going to the same place or location.
A simple idea, but research shows a new location or restaurant adds a bit of novelty as reported in scientific research by Professor Arthur Aron, a professor of social psychology at the State University of New York at Stony Brook.
2. Try a new activity together.
For example, some couples enjoy doing weekly community service together or just exercising together at the gym.
3. Check out websites for local date ideas or weekend getaways and surprise someone special.
Couples who look forward to being together and try to please one another often are rewarded with a closer relationship.
4. Couples should stay within their budgets. Another popular date idea at PearHaven was a stroll and then coffee at a local café or enjoying a picnic at the local park.
5. Go out with other couples.
ScienceDaily reports the Wayne State University study by Richard B. Slatcher, Ph.D., assistant professor of psychology, College of Liberal Arts and Sciences, "reveals that dating couples that integrate other couples into their social lives are more likely to have happy and satisfying romantic relationships." Slatcher's research "suggests that spending quality time with other couples may be an important way to improve long-term dating relationships."
6. Most importantly, when out on a date with each other, listen to what the other has to say and show appreciation for being together.
More than dinner and a movie date site, PearHaven encourages and promotes a couple's long-term romantic relationship. PearHaven.com uses different features to keep couples romantically involved with each other. The website suggests and maps out new date ideas. The website also offers a fun game-like design called gamification where couples are rewarded achievement badges for their date experiences such as going on dates in different cities or connecting with other couples. While similar to Foursquare, which unlocks badges for individuals visiting new or unique places, PearHaven is for couples' experiences. With more options of competitive or game-like date ideas available to earn achievement badges, a place to share memories and photos, PearHaven couples have a place where they can enrich their dating experiences and strengthen their relationships.
Pearhaven was created so the web could revolve around couples rather than individuals, utilizing all of the different sharing aspects of traditional social networks and bringing them into romantic relationships. The idea for PearHaven was born after a discussion about relationships between PearHaven founder, David Lackey and his girlfriend, which was spurred by a Social Psychology class he was taking at Princeton.
About PearHaven
PearHaven is not a dating site. It's an entirely new way to think about the web and relationships. Couples or single users can discover date ideas and record their memories.
PearHaven.com, a social website with free sign-ups for people of all ages who are dating, engaged or married to record their dating experiences, connect with other couples, post photos and earn achievement badges for trying new date ideas. PearHaven.com provides new date ideas and maps the locations. PearHaven.com was founded by David Lackey, a student at Princeton University.