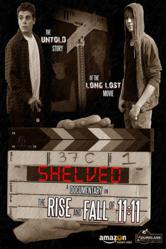 "It's been 8 years of hell"
Huntington Beach, California (PRWEB) August 08, 2012
The new feature-length documentary, entitled; Shelved: The Rise and Fall of 11:11, went 'live' worldwide today exclusively on Amazon's new Instant Video digital platform, allowing customers instant access to the film with the click of a button. The Official Trailer for film is also running on Youtube.
In May 2004, film director and screenwriter Rocky Costanzo announced he would begin shooting his then follow-up feature film to his critically-acclaimed debut court drama, "Return to Innocence," which traveled the festival circuit and was an honorable mention as a "finalist" at the 2001 Rhode Island International Film Festival. His new film, however, spawned a whole new level of interest when it was originally announced. "11:11," a coming-of-age tale set and shot in Costanzo's childhood hometown of Huntington Beach, was slated as his second feature and was set for release in 2005. Instead, the film mysteriously disappeared despite growing interest. While Costanzo and his then production company, LifeLine Entertainment produced three other features, each having success on home video, but fell short of the success of "Return to Innocence," sitting somewhere on the back burner was "11:11."
In 2009, an official blog was created announcing that "11:11" was going back into production with a re-imagined screenplay that would bring back the original cast members seven years older. In 2004, the young actors were 11 year-old kids and were not originally expected to come back. However, Costanzo saw an opportunity to bring them back as older teenagers in a new supernatural twist. The project was off and running again and the growing fan base was on board once again with proof coming from the release of the theatrical trailer that year, reaching 70,000 Youtube views alone. However, everything came to a halt yet again as production wrapped and for the next two years there was no activity happening, nor an explanation of what was going on… until now.
THE DOCUMENTARY
When developing 11:11, Costanzo brought in an aspiring filmmaker, Gary Iacobucci to shoot an extensive "making-of" documentary, which was to be used as a special feature on the film's Blu-ray/DVD. What he captured instead, was the rise and fall of Costanzo's film. "Gary's camera was with us every step of the way." said Costanzo. "This included the development meetings, auditions, location scouts, the table read, and of course every day on the set. He had hours and hours of footage." This footage now appears in the documentary, along with current interviews with every major onscreen and behind-the-scenes player and visual anecdotes sprinkled throughout. Costanzo admits that while the documentary is a good tool for young filmmakers and student filmmakers to learn from their mistakes, it personally serves as a closure for the 11:11 project which he expects will never be released. "It's time to move on and focus on new film projects." Costanzo says. In 2010, Costanzo launched his new Huntington Beach production company, Hourglass Pictures, where new films are being developed.