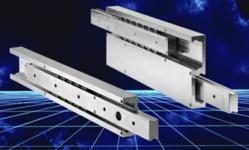 Santa Fe Springs, CA (PRWEB) August 26, 2012
Accuride International announces new higher load ratings for super heavy-duty slide models AL4120 and AL4140. After finding these products tend to be specified for applications that have lower cycle count requirements, Accuride conducted additional testing to re-evaluate load maximums. First tested at 10,000 cycles, the products were re-tested at 5,000 cycles. At the lower cycle count, there is a sizable increase in load capacity. The testing reveals model AL4120, a ¾ extension slide, will carry up to 1,212 pounds per pair. Model AL4140, a full extension slide, carries up to 1,323 lbs. per pair.
These products are made of lightweight aluminum, and stainless steel ball bearings and ball retainers. This provides corrosion resistance in environments where moisture or high humidity is a factor. Potential applications include large sliding doors or partitions; storage trays or shelves for tools and equipment; sliding storage units for files, books, or supplies; or extendable platforms used for loading purposes.
In moderate-use applications up to 10,000 cycles, model AL4120 offers a load rating up to 966 pounds. AL4140 carries up to 882 pounds. These slides do not have a disconnect method. This imparts additional strength and prevents removal of the moving unit from the case or framework. The slides are available in lengths of 16", 20", 24", 28", 32", 36", 40", 44", and 48".
Accuride International is a leader in the design and manufacture of precision ball bearing slides and movement solutions for a broad range of applications across many industries. The company has locations in North America, Europe, and Asia. http://www.accuride.com.