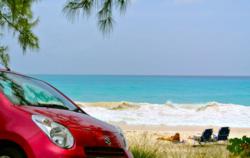 If you are involved in a serious accident, you are not going to be liable if it is covered by the insurance. If not covered the bill could be a disaster
Bridgetown, Barbados (PRWEB) September 28, 2012
In this video, Jonathan Gittens explains why, if someone is interested in car hire in Barbados, rental car insurance is both a good idea and is often overlooked.
Direct Car Rentals includes vehicle insurance with every Barbados hire car. Mr. Gittens said this is protection for the renter, the passengers and other parties who may be injured in the accident.
"If you are involved in a serious accident, you are not going to be liable if it is covered by the insurance. There is a very small deductible of $250 US dollars," he states in the video.
Third party liability insurance protects the person renting the car in case an accident is someone else's fault even if they have no insurance. In some countries 3rd party insurance is not mandatory, and that can result in huge liabilities for personal injury and property damage. Insurance coverage with a reputable company is vital for peace of mind and to limit ones financial exposure while driving on holiday.
Direct Car Rentals also offers 4x4 vehicles for visiting some of the more remote locations in Barbados. Before renting one of these Jeeps, drivers should make sure their planned destinations allow off road vehicles. In Barbados, visitors like to drive on the beaches but this is prohibited. Still 4x4's are popular as people just like the ride, the power and the stability of the vehicle.
For Safety reasons the company no longer offers the Mini-moke vehicles. Residents and visitors who rent a car in Barbados prefer the safety of an enclosed vehicle and appreciate the air conditioning, Mr. Gittens said.
Renting a vehicle provides an excellent way to see Barbados without being tied to a tour company or a tour bus, Mr. Gittens said. By controlling when and where the vehicle goes, the driver can decide how long to stay in a particular place as well as visit locations not on regular tour routes.
Direct Car Rentals Ltd. (DCR) is family owned and operated and trusted for over 36 years. For more information visit Direct-car-rentals.com or call 246 420 6372
DCR is marketed by AXSES SocialIndexEngine.com (SIE) which includes listing on the Barbados.org website and its social network in addition to the SIE knowledge network. The holiday rental car video was created by AXSES RealHolidays.TV. It is published on YouTube and across the Internet as part of the SIE video marketing campaign.
To rent a car in Barbados go to http://Direct-Car-Rentals.com
For information on marketing see http://SocialIndexEngine.com