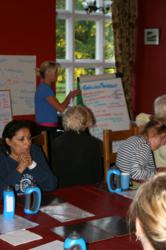 The UK's Original Weight Loss Retreat
(PRWEB UK) 28 September 2012
Established in 2006 FitFarms was the very first weight loss residential programme to run 7 day specialised weight loss retreats in the UK.
The company has now seen over six thousand guest go through the testing but extremely fun and varied weight loss programme.
When guests arrive they go through a thorough health assessment so the FitFarms fitness camp team can tailor the programme to guests current fitness levels.
The FitFarms weight loss retreat programme are known to keep away from the typical UK boot camp programme making exercises varied and interesting.
The new 5 day programmes will run on the FitFarms philosophy of sustainable health and weight loss.
During the 5 days the fitness retreat guest will be following a programme consisting of exercise, nutrition, mind and motivation.
The nutrition programme is designed to re-educate guest on portion sizes and balance their blood sugar levels so they do not crave sugary type foods and over eat.
During the 5 days stay there will also be an in-depth workshop by the FitFarms nutritional therapist.
The nutritional therapist will be covering good basic nutrition like label reading, emotional eating and how it effects lond term weight gain.
The exercise workshops will run throughout the week and will cover metabolic workouts, stretching, warming up and down to name a few.
There mind and motivation workshops are designed to keep people on track in the long term way after the weight loss retreat programme has finished.
The 5 day courses will be popular with old and new guest so book quickly to avoid disappointment.