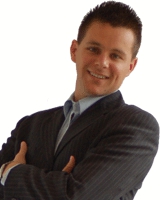 Google don't rank the highest quality advisers at the top of their results, they rank the best marketers…
Melbourne, Victoria (PRWEB) January 02, 2012
The 1st January 2012 marked the official launch of http://www.FindAFinancialPlanner.com.au. Now, in addition to providing free resources for navigating the financial planning process, the Financial Planning Client Advocate (FPCA) will also provide a service to find a financial planner who has being interviewed and accredited by the FPCA.
With over 16,000 registered financial planners in Australia, consumers are faced with a daunting task to find a financial planner who's a match for their individual advice needs.
Tyron Cleine CFP, a spokesperson for the FPCA says "One of the biggest mistakes people make is to choose the financial planner who's closest to their home or office. If you do this then you're at risk of getting the wrong advice, because not all financial planners are created equal.
"Some specialise in investments, while other specialise in insurance, retirement planning or debt reduction. Some financial planners are highly qualified, while other aren't."
With the introduction of the Find A Financial Planner website, the FPCA has simplified the process of finding a financial planner and increased the likelihood that Australian's will receive the financial advice they require.
The FPCA's goal was to create an online portal where consumers could find a financial planner based on both their location and the type of advice they require.
This goal wasn't without its challenges. Firstly they needed a way to distinguish the good financial planners from the bad. This lead to the birth of the FPCA's Accreditation Program. An independent, unbiased process that could assess financial planners to ensure only the best planners were connected with consumers.
"The accreditation process involved us spending half a day in the advisers business reviewing their systems, process and advice. For every adviser accredited I had to ask myself, would I send my parents, siblings or friends to see this planner? Naturally, not everyone who applied met this standard," remarked Cleine.
The next hurdle was making the find a financial planner service visible to consumers. This meant competing with the major banks and financial institutions and their large marketing budgets.
"Search engines like Google don't rank the highest quality financial planners at the top of their results, they rank the best marketers… We needed a way to get good quality financial planners to the top of the search results so people could find them. Unfortunately, if you're a great financial planner you're probably not that great at marketing. There two different skill sets," says Cleine.
Now, with the introduction of this service Australian consumers can conduct a free search on the Find A Financial Planner website to be matched with a local financial planner who specialises in the advice they require and high-quality financial planners have a better chance of being found online.
###