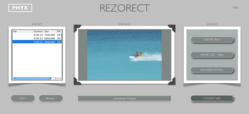 "It's simple to use and fast. Rezorect delivers the quality and speed our professional customers have come to expect from PHYX, with ease-of-use and price optimized for the consumer market."
Pittsburgh, PA (PRWEB) January 20, 2012
Visual effects software developer PHYX Inc. has released its first cross-over product for the consumer market. PHYX Rezorect up-samples video of any resolution including Standard Definition (SD) video to High Definition (HD).
"With Rezorect, PHYX has made upscaling to professional-quality High Definition accessible to consumers," said Justin Bendo, PHYX principal and product manager. "It's simple to use and fast. Rezorect delivers the quality and speed our professional customers have come to expect from PHYX, with ease-of-use and price optimized for the consumer market." PHYX's award-winning visual effects software is used by major companies including the FBI, Disney, Fox, CNBC, and others.
Most so-called HD converters increase pixelation and noise during conversion. Rezorect is based on an advanced accelerated PHYX image reconstruction algorithm which reduces noise and pixelation artifacts, and assures the optimal vertical/horizontal aspect ratio. There's no guesswork or frustration with sizing, because each image is perfectly proportioned. Another advantage of Rezorect is its powerful deinterlacing engine, which converts interlaced footage to progressive frames.
"Rezorect is an extremely accessible and affordable product," continued Bendo. "For $29.95, anyone can batch-convert any resolution video from any source to HD. There's no need to invest in separate external applications to get PHYX-worthy HD video."
Time savings is another key feature of Rezorect. Rezorect can batch-convert one, two, or as many files as the user selects. No more:

creating a composition for every file
adding a plug-in to each file
toggling settings for each file
browsing to the location to save each file
PHYX Rezorect Highlights:

No external host application required
Designed to work with Apple OS X 10.5,10.6, and 10.7
Built as a 64 bit application for OS X 10.7 Lion.
The 64 bit (Lion) build can encode video more than twice as fast on the same machine.
Converts any Standard Definition video to High Definition in three steps:
1. Import
2. Preview
3. Export

User can choose encoder properties
User can choose output format (720p or 1080p)
Rezorect delivers fast, professional-quality HD resolution every time
"Rezorect is a welcome addition to the PHYX product suite. I predict it will be an instant hit with professionals, and will catapult PHYX into the consumer stratosphere," concluded Bendo. Availability and Pricing of PHYX Rezorect: Users can purchase PHYX Rezorect effective January 20, 2011 for $29.95 USD.
About PHYX Inc.
PHYX Incorporated is a privately held U.S. corporation. Its principals have been developing custom tools for Visual Effects since 2002. In 2007, PHYX Inc. brought its first collection of tools to the public.
PHYX Inc. continues to create its visual effects tools with the involvement and guidance of professionals from Industrial Light and Magic (ILM), WETA Digital, Digital Domain, Sony Imageworks, Pixar, and other studios.
To learn more, please visit:
http://www.phyxware.com/Rezorect.html
###