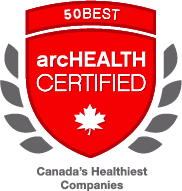 "Is healthcare a profit center for your company?, It should be!"
Dr. Larry Ohlhauser
Author of Bestseller 'The Healthy CEO'
Toronto Ontario (PRWEB) January 12, 2012
Starting in the spring of 2012, arc Health Management will begin accepting applications to identify the Healthiest Companies in Canada. The goal is to recognize companies that have achieved outstanding results as it pertains to employee health, wellness, and well being. This program is being launched as an annual certification and awards program
"Recognizing Canadian companies for their outstanding achievements in employee health, wellness, and well-being is long overdue," say's Ryan Smith, a Vice President at arc Health Management in Toronto. "There are many fantastic examples of leading companies that practice new ways of managing employee health, it's time these companies are recognized in a big way on a national and even international stage" Ryan adds.
The Annual 50 Best Awards will recognize 50 of the healthiest companies in Canada. Private and public companies are encouraged to apply.
"We believe that participation in the Certification and Awards program is an exceptional opportunity to gain insight and knowledge from some of Canada's best leaders in corporate and occupational health. Companies will learn from their peers about what's working and delivering tangible results as it pertains to HR policies and procedures," said Steve Ogden, senior partner with arc Health Management.
"This type of certification and recognition program comes at a time where corporate leaders are striving to achieve a healthier work environment. The fit50 program will highlight leaders in corporate health and wellness just as the 'Canada's 50 Best Managed Companies' program has recognized Canada's leading management teams," said Dr. Larry Ohlhauser, author of the bestselling book 'The Healthy CEO'.
Benefits of applying
Applicants benefit from:
-coaching from industry experts including arc Health Management
-detailed self-analysis of your current Policies and Procedures compared to current best practices. ie. what you are doing right, where you could be doing better and whats contributing to unnecessary costs.
Benefits of Winning
-exclusive use of the '50 Best, Canada's Healthiest Company' designation
-lower insurance premiums and reduced costs related to employee health benefits
-extensive national, regional and local media exposure
-rich networking opportunities with other exceptional business leaders
-an improved ability to attract and retain top talent and achieve a healthier workplace
-a reason to celebrate the efforts of your entire workforce
-recognition by over a thousand business influencers at an exclusive Gala celebration
-access to year-round resources and events allowing your company to strengthen its network
To apply for Certification and to be eligible for a '50 Best, Canada's Healthiest Companies' Award program or to learn more visit http://www.healthcertified.ca
###