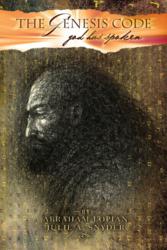 What The Genesis Code reveals will shock mankind.
Boca Raton, Florida (PRWEB) January 12, 2012
2012 has arrived and so has The Genesis Code. New book reveals secret Bible code in the ancient Hebrew texts that rocks the very foundation of religion and challenges age-old perceptions of God, creation, and reality. The Genesis Code answers man's unanswered questions. This Bible code voyages into the metaphysical realms of creation and opens the mind to a level of Godliness the world has never known. Mankind will be shocked, awakened, and transformed by The Genesis Code's extraordinary revelations of the Godliness, the beginning stages of our universe, the quantum world, the mystical world, the physical world, the unknown matrix, the secrets of manifestation, and the undiscovered realities of creation.
It has taken 3,500 years for mankind to find and decode God's intended and primary message. Now, the question rises, "Is mankind ready to travel down the rabbit hole of advanced conceptions? Has human consciousness elevated 'enough' to enter the portal of enlightenment and know what is on the other side?" Authors, Abraham Lopian and Julie A. Snyder, believe so and add, "This advanced code has entered human awareness because modern-day man is ready to know the truth."
On this journey down the rabbit hole, The Genesis Code sheds light on the secret meaning hidden within the "not so simple" Hebraic names for God (Elohim, Jehova Elohim, and Jehovah), the Heavens, Earth, Adam, Jacob, Israel, Moses, and the Mountain of God where the Divine's portal of enlightenment opened to the man of long ago. The Genesis Code exposes the strange and mystical Luchot Haedot—God's primary tablets that preceded the Ten Commandments. Through understanding these primary tablets, together with their power and transformative nature, a new reality becomes possible for the man of the 21st century.
The Genesis Code will guide humanity to a higher level of God/Man awareness. Lopian states, "I studied the Bible all my life. While I have a deep understanding of the Torah, these revelations only came about through a life-changing metaphysical experience. This coded message changes everything we thought we knew about God." Snyder adds, "There was the Adam of yesterday, and there is the Adam of today--each existing through his unique reality and particular level of consciousness. This enlightenment is so advanced, brilliant, and fascinating, everyone (whether religious, spiritual, or those with a scientific perspective) will find profound wisdom in The Genesis Code's revelations."
For over fifty years, Abraham has studied the Torah, Talmud, and Rabinnical Law. He has attended several prestigious Talmudic Colleges throughout the world. Julie, gifted with an innate knowingness and earthy nature, left corporate America as a successful executive in the building industry to work with Abraham and bring this message of profound enlightenment to the world. Together, Lopian and Snyder have delivered a spectacular message that is divine in nature.
# # #