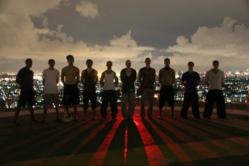 Miami, Florida (PRWEB) January 23, 2012
In the first installment of the parkour team spotlight series, the Parkulture editorial team look at Team Farang and answer the question: "What do a Scottish-Indonesian, an Australia and a German have in common?".
"Anan, Shaun and Jason were some of the first professionals to sign on as judges for the Cro ss Urban Scramble Competition," says Roch Nakajima, co-founder of Parkulture. "These guys are amazing and the fact that all of them congregated in Bangkok made them even more intriguing. We had to get the inside story!"
In this series, readers will get close and personal with some of the best freerunners and traceurs in the world. This first interview features German born Jason Paul, winner at the Art of Motion competition, Australian Shaun Wood, qualifier at the Barclay World Freerunning Championship and Thai-Indo-Scottish Anan Anwar soap opera actor and leader in the South East Asian parkour and freerunning community.
Every month, the Team Spotlight series will focus on a different part of the world in an attempt to showcase a true global perspective of Parkour and Freerunning. In this endeavour, parkulture invites professional teams from around the world to contact them directly at contact@parkulture.com if they would like to be showcased in the series.
To read the entire interview and Team Spotlight visit this link.
Parkulture LLC is a Florida based international public benefit organization, with over 130,000 members, dedicated to the comprehensive development of parkour and freerunning at an amateur level. It is also the organizer of the Cross Urban Scramble and Parkulture Festival, the first international amateur competition.
###