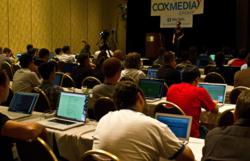 There will be invited speakers and community talks.
Portland, OR (PRWEB) January 31, 2012
The Open Bastion today announced the first of a series of six new conferences for Python and Django users. Open Django East is to be held at the Renaissance Newark Airport on May 18-19. "PyCon and DjangoCon are both terrific conferences," said The Open Bastion's Steve Holden "and so they are seeing amazing growth. But not everyone can travel to a national conference, and they only happen once a year. There is some indication that more conferences will be better for the community than larger ones."
The company plans other Django events in Dallas, TX and Portland, OR later in the year as well as Python events in Boston MA, Chicago, IL and Los Angeles, CA. The conferences will mix presentations from invited speakers with submitted talks by community members and other staple features of open source conferences. "We will be doing everything we can to ensure that delegates are truly delighted with the conference," Holden continued. "This means not only educating them but also feeding, interesting, amusing and entertaining them."
2012 will be the third year that The Open Bastion team has run DjangoCon for the Django Software Foundation. Holden said "This company was formed to run technical events, and we are looking to quote for private corporate technical meetings as well as public events like Open Django. We will also be bidding to run other open source conferences this year."
This move comes at a time when PyCon has capped its attendance to ensure that it retains the essential community flavor it is felt to possess. Larger conferences would be contrary to the ethos of the open source world, which does not necessary believe in economies of scale—large results are frequently obtained by quite small teams, though of course hardware and software has to scale on demand if a system meets with success in the marketplace, so this is not being driven by unfamiliarity with the concept.
"More and more people need information about open source as corporate take-up of these technologies increases," said Holden "and we are looking forward to working with sponsors who need to bring themselves to developers' attention."
The Open Bastion is the Holden Web subsidiary responsible for conferences and technical events.
###