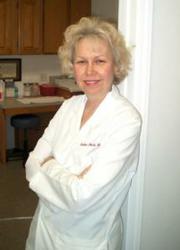 Prescott, Arizona (PRWEB) January 03, 2012
Robin Fleck, M.D., F.A.C.P., founder and medical director of Vein Specialties in Prescott, Arizona, decided to do something about patient discomfort during varicose vein treatments. Dr. Fleck has been listening to her patient's concerns and decided to search out a technology that is painless, drug-free, and causes no discomfort. The solution she found is Covidien's Closure-Fast radiofrequency technology. "It was natural for us to add radiofrequency technology to our practice," notes Jessica Peters, medical assistant at Vein Specialties. "We already provide our patient's with endovenous laser ablation, which is highly effective with minimal discomfort. So, we're very excited to take the next step to help our clients have the most comfortable and painless experience while in our care."
Venous reflux disease develops when the valves that keep blood flowing become damaged or diseased, allowing the blood to pool at the bottom of the leg. As a result, vein valves will not close properly, leading to symptoms of varicose and spider veins, leg pain, heaviness, swelling, and fatigue. "We offer compression hose that can give a patient more immediate relief, but the problem still exists when the hose come off," notes Dr. Fleck. "Not seeking treatment can cause serious health problems down the road." In more severe cases, blood clots in varicose veins have led to strokes and even death. Changes in skin color, texture, and leg ulcers are also a telltale sign of more serious venous insufficiency.
Radiofrequency ablation is a state of the art procedure which uses a controlled radiofrequency energy (heat) powered by a tiny catheter, to close the vein wall. Once the diseased vein is closed, blood is rerouted to healthy veins. The Covidien ClosureFAST procedure is performed on an out-patient basis and takes only 30 minutes. Using ultrasound guidance, the physician positions the ClosureFAST catheter precisely into the damaged vein with local anesthesia administered prior to treatment. The physician slowly removes the catheter until the entire vein is closed. Because the heat is controlled at a lower temperature than the standard endovenous laser ablation (EVLA), there is less vein wall damage which translates to less bruising and post-treatment pain. The vein wall shrinks and the vein becomes sealed in a matter of minutes.
Studies with the new Covidien ClosureFAST technology show patients experience less pain and bruising, fewer complications and realize quality of life improvement up to four times faster than those treated with other technologies. The difference is the consistent and low temperature of the catheter, allowing the safe closure of the vein without damaging the area around it. EVLA uses a higher temperature, but is also considered effective and safe with minimal bruising and discomfort.
Preoperative medications such as Valium and postoperative pain medications are no longer required with this quick, painless procedure. Patients can return to regular activity immediately, and most insurances companies cover the cost of the treatment. "Vein procedures of the past required an overnight hospital stay," Dr. Fleck recalls. "Laser treatments have been a significant tool in our practice, and being at the forefront of this technology gives our patients options and peace of mind."
An initial consultation is required to determine if venous insufficiency exists. Next, candidates are evaluated with the use of ultrasound to see whether the ClosureFAST procedure or EVLA treatment would be more effective in their specific situation. "Having both technologies gives our patients optimal outcomes," notes Jan Gillum, medical assistant at Vein Specialties. "We can decide which procedure best suits the individual's needs." Both procedures differ greatly from vein stripping which requires hospitalization and causes a large degree of pain and discomfort following the procedure. Endovenous laser ablation and radiofrequency ablation make it safer, easier, and more cost effective to treat venous insufficiency due to the speed and accuracy at which these technologies can be delivered. Most patients report a noticeable improvement in their symptoms within 1-2 weeks following the procedure.
With the introduction of this new treatment, Vein Specialties will be able to treat patients who have venous insufficiency in their perforator veins as well. "This new technology allows us to fix venous insufficiency in veins we couldn't get to before." says Jessica Peters. "We now have a broader spectrum of veins we can treat. From spider veins with our sclerotherapy injections to perforator veins with Radiofrequency, this all translates to more relief for our patients." Radiofrequency ablation remains the only FDA approved treatment for perforator veins.
Vein Specialties offers free consultations for those experiencing the sometimes debilitating effects of venous insufficiency. Contact Jessica Peters at (928) 778-0808 to make your appointment.
Vein specialist and cosmetic dermatologist Robin Fleck, M.D, is a double-board certified dermatologist and internist, recognized by the American Board of Dermatology and American Board of Internal Medicine. She is founder and Medical Director of Vein Specialties http://www.prescottvein.com/ in Prescott, Arizona, and is a fellow of the American Society of Laser Medicine and Surgery , the American Academy of Dermatology, and the American Venous Forum. Dr. Fleck is also the founder of Southwest Skin & Cancer Institute http://www.rejuvadoc.com/ and Body Oasis Laser Aesthetics http://www.bodyoasislaser.com/ in Prescott, Arizona.
###