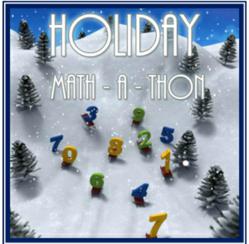 Pittsburgh, PA (PRWEB) January 20, 2012
Apangea Math, a web-based adaptive math solution supporting grades 4 – 12, launched a holiday motivational contest during the December break to get students excited to "do" math and encouraged students to work over the holidays on their math skills By doing so, Apangea Math was able to onboard 873 students to actively participate on Apangea Math during the winter break math contest.
Our mission at Apangea Math is to facilitate out-of-school math and have our program and service work as an integral part of a school solution that drives results in-and-outside of the classroom. Students using Apangea Math took advantage of our anytime, anywhere access by logging on over the holidays to better their math skills. Outside of school hours, Apangea Math saw 873 students, who actually completed 3,458 lessons and totals over 2,000 hours worked over the break on math.
As an incentive to learn, Apangea Math sponsored a holiday break competition and our students fully embraced it and went after it. We saw students from across all of our client districts logging on, completing math lessons and winning prizes. Congratulations to the students across the 49 school districts who will receive their awards this week for a job well done.
A listing of the top 5 schools (with completed lessons) are as follows; Meridian (678 lessons), Boise (426), Kuna (223), Post Falls (331) and Nampa (189). This is an amazing feat in itself to encourage and motivate kids to do work during their down time from school. Must we forget, that is also during a vacation and the students were eagerly awaiting the contest and succeeded with flying colors.
Apangea Math provides students with the excitement they need to learn more about math and the tools they need to learn and practice their math skills.
Find more details about what Apangea Math is doing, please visit the Facebook page at http://www.facebook.com/Apangea or visit the website at http://www.apangea.com.
About Apangea Learning
Apangea Learning (http://www.apangealearning.com) provides one-student-to-one-teacher differentiated instruction through an integration of tutoring technology and live, online certified teachers. With programs based on one of the world's largest bodies of cognitive research conducted by the U.S. Air Force, Apangea has both strong technical resources and a content-development prowess that enables it to harness advanced web technologies and offer innovative instruction techniques. The privately owned company is based in Pittsburgh, PA.
###