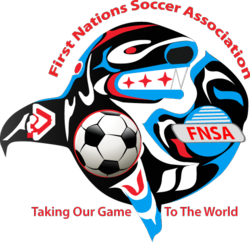 Our goal is to train a national aboriginal team capable of competing with any world cup team. - Metro Gerela.
British Columbia, Canada (PRWEB) January 04, 2012
The world of First Nations sports welcomes the latest entry working to promote the opportunities of aboriginal athletes – the First Nations Soccer Association (FNSA). Sponsorship opportunities are available to any company or individual who wishes to make a positive impact in the lives of aboriginal children pursuing sports.
"Our goal is twofold: to contribute to aboriginal child development through sports training – and to train a national aboriginal team capable of competing with any world cup team," said World Cup Soccer Police and Fire Games Champion and FNSA coach Metro Gerela.
Gerela, a former Canadian scout for the Vancouver Whitecaps Canadian North American Soccer League (NASL) Soccer Bowl Champion, has advocated for aboriginal soccer players in BC and Canada for many years. The former Canadian scout was recently inducted in the Canadian Soccer Hall of Fame with the Vancouver Whitecaps NASL Soccer Bowl champions.
A large group of young players have been identified and are now being groomed under coaching staff and coaches Gerela, Cheryl Charlie and Brian Charlie. The goal of FNSA is to reach out to all aboriginal communities in BC to provide a community soccer program, with the ultimate goal of qualifying four teams with FNSA uniforms to compete nationally. A member-wide contest will select a suitable identifying logo to create awareness and ownership throughout the province of British Columbia.
FNSA strongly believes that sports programs for First Nations children will not only help them develop athletic prowess, but achieve higher academic standards and improve social opportunities through building up their self esteem, teamwork, and goal orientation. The Board of Directors works tirelessly to this aim, including advocating for the available sponsorship opportunities to help grow the program.
"Our aim in forming this association is no less than to institute a systematic training program to ensure that aboriginal children throughout Canada have the same opportunities as other children," said President and CEO Cheryl Charlie of FNSA. "It is a commitment that is upheld by each and every board member, with a commitment to transparency in all our actions to ensure accountability on our part and to instill confidence in our donors."
About the First Nations Soccer Association
Created in 2010, FNSA works to develop athletic excellence and to generate entry into university, provincial and national opportunities for aboriginal players and First Nations sports. To date, their team of coaching staff, managers, players and Board of Directors has worked diligently over the past couple of years to ensure that the infrastructure is in place to ensure success. For more information visit http://fnsacanada.ca/ designed by SEO company, Canada SEO Professional™
Media Contact:
Nora Weber
TerraCom Communications Group
P: 604 504 4457
E: noraw(at)terracomgroup(dot)net
###