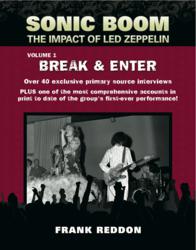 "When it comes to solid research, Sonic Boom is as good as it gets."
Dave Lewis, renowned Led Zeppelin author and editor of Tight But Loose magazine, Bedford, UK
Fort Erie, ON, Canada (PRWEB) January 31, 2012
British rock band, Led Zeppelin, took flight in August 1968 and crashed in September 1980 with the untimely death of its drummer, John Bonham. Founded by lead guitarist, Jimmy Page, the group also included seasoned session man, John Paul Jones on bass guitar and keyboards and a then-unknown vocalist named Robert Plant, now a multiple Grammy-winner.
Author Frank Reddon – a long-time lover of Led Zeppelin's music and a devoted collector of the band's official and unofficial recordings – based this, his first book of several planned, on research he conducted for more than a decade. His quest was to explain how and why the band's music has endured for over forty years, rather than delve into the tabloidesque details of rock'n'roll excess.
Sonic Boom: The Impact of Led Zeppelin. Volume 1 – Break & Enter was officially published on September 7, 2008 – the fortieth anniversary of the band's first-ever public performance, at Gladsaxe Teen Club in Copenhagen, Denmark.
In February 2009, Reddon's book was given a home in the Curatorial Library of the Rock and Roll Hall of Fame in Cleveland, Ohio.
The e-book version, which was created from the hardcover and formatted by eBookIt.com, contains the majority of Reddon's interviews with deejays, musicians, promoters and concert attendees who helped Led Zeppelin "break" in Scandinavia and "enter" the North American market.
It provides readers with over 500 "pages" of proprietary information about Led Zeppelin, much of which appeared for the first time in print in Reddon's hardcover version.
This electronic version contains a foreword by renowned Led Zeppelin author and editor of the all-Zeppelin magazine Tight But Loose, Dave Lewis of the United Kingdom. Upon reading the original hardcover, Mr. Lewis declared: "When it comes to solid research, Sonic Boom is as good as it gets."
The e-book version of Sonic Boom: The Impact of Led Zeppelin. Volume 1 - Break & Enter is available as a PDF as well as in formats for Kindle, iPad, Kobo, other e-readers and mobile devices. It may be purchased through online e-book retailers or ebookit.
In February 2012, Enzepplopedia will release another e-book title: "J.J. Jackson Remembers Led Zeppelin: The Music and The Guys Who Made It".
Enzepplopedia Publishing, Inc. is co-owned by author Frank Reddon and his sister, editor Lou Anne Reddon. The company is based in Fort Erie, Ontario, Canada. Other e-books about Led Zeppelin are planned for release throughout 2012.
Enzepplopedia is a registered trademark of Enzepplopedia Publishing, Inc. All rights reserved. Book and e-book titles are copyrighted and registered with Library Archives Canada and the United States Library of Congress. Other brand names, trademarks and registered trademarks are the intellectual property of their respective owners. All rights reserved.
###