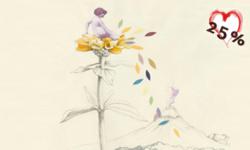 The best way to say I love you is by being creative and thoughtful with Limited Edition art.
New York, NY (PRWEB) January 31, 2012
Incorporating art as a tribute to love and friendship is one of the hottest retail trends for this Valentine's Day. In this spirit, WelcometoCOMPANY.com, is having a 25% sale on a unique assortment of select Limited Edition prints of curated works from artists they discover in the New York underground art scene. The sale lasts until February 14th.
Valentine's Day is rapidly approaching and WelcometoCOMPANY.com honors the significance of the day with gifts that last longer than flowers or a cliché box of chocolates. At once artsy, alternative, and thoughtful, these museum-quality prints demonstrate love and appreciation with meaningful detail. They also inspire that special someone to notice your cultural side by supporting Emerging Artists who are committed to their craft.
Among the prints subsists a varied collection: (1) Our Gay Wedding by Melodie Provenzano depicts a delicate homage to same-sex and interracial marriage; 2) Little Pinky Split by Hanna Chung recreates a spill-your-guts affection with a bunny who can't contain his feelings; (3) Volcano Lover by Lauren Matsumoto illustrates a gently smoldering fondness; (4) I Remember You by Yeji Jun shares the feelings of love at first sight with a pair of sparkling eyes; and (5) a text-based diptych by Michelle Heinz to charm a literary lover. All Limited Edition prints offered in this Valentine's Day collection are produced on archival paper personally selected by the artist themselves and the entire process is also supervised by each individual artist and WelcometoCOMPANY.com's Limited Edition prints department to ensure the quality and integrity of even the smallest details.
WelcometoCOMPANY.com's diverse collection of rare Limited Edition prints offer loved ones and friends Valentine's Day gifts to withstand the test of time. All selected prints are on sale with a 25% discount until February 14. Visit http://www.welcometoCOMPANY.com to purchase a print and see the different sizes available.
###