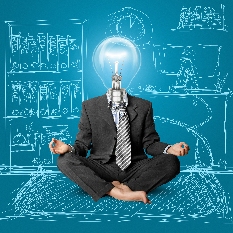 Dr. Goldsmith described his talk with Bono, and the evolution of U2 singer's identity from rock star to include a humanitarian persona.
San Francisco, CA (PRWEB) January 05, 2012
Ryan E. Yip, Ph.D., a branding strategist and moderator of the Enlightened Leaders Network is pleased to announce an exciting new multimedia series entitled Mindful Leadership that will foster interaction on such topics as academic preparation, character, principles, performance, experience, expression, and influence. It will also explore the impact of self-awareness, empathy, and actualization on leadership effectiveness, enabling those in management to lead an ethical and productive workforce.
Prominent business thinkers will discuss the influence of personal values on career success, individual happiness, and a meaningful life. As former Medtronic CEO and acclaimed author Bill George has stated "Leaders who do not take time for introspection and reflection may be vulnerable to being seduced by external rewards, such as power, money, and recognition. Or they may feel a need to appear so perfect to others that they cannot admit vulnerabilities and acknowledge mistakes." George added that some of the recent difficulties of Hewlett-Packard, British Petroleum, CEOs of failed Wall Street firms, and dozens of leaders who failed in the post-Enron era are examples.
The series begins with Dr. Marshall Goldsmith, a world authority in helping successful leaders get even better – by achieving positive, lasting change in behavior: for themselves, their people and their teams.
His book, MOJO, was released in February 2010. It is a New York Times and Wall Street Journal top ten best-seller – and the Shanghai Daily #1 business book in China. It is already scheduled to be translated into 14 languages.
In November 2009 Dr. Goldsmith was recognized as one of the fifteen most influential business thinkers in the world in the bi-annual study sponsored by The (London) Times and Forbes. The American Management Association named Marshall as one of 50 great thinkers and leaders who have influenced the field of management over the past 80 years. He is one of only two educators who have won the Institute of Management Studies Lifetime Achievement Award. Major business press acknowledgments include: Businessweek – most influential practitioners in the history of leadership development, Wall Street Journal – top ten executive educators, Forbes – five most-respected executive coaches, Leadership Excellence – top five thinkers on leadership, Economic Times (India) – top CEO coaches of America, Economist (UK) – most credible executive advisors in the new era of business and Fast Company – America's preeminent executive coach.
"There is a school of thought in business coaching that believes in strict adherence to a behavior modification model, one that is based on changing a client's reaction to external conditions" said Dr. Yip. "However, in Marshall's new book Mojo, he states that a person's identity, her self-definition, is one of the building blocks of a positive spirit. During our interview, I first asked him to explain how coaching to change a client's identity is different from coaching to change behavior." Dr. Goldsmith described his talk with Bono, and the evolution of U2 singer's identity from rock star to include a humanitarian persona. Later in the interview, Dr. Goldsmith gave his advice on how to be happy and let go of guilt. "Marshall used parables to deftly illustrate his insights for releasing the emotional burdens that chain us to habitual patterns and prevent us from experiencing self-acceptance," Dr. Yip stated.
Marshall Goldsmith on Redefining Your Identity
http://www.youtube.com/watch?v=Ke40rMaBFgA
Marshall Goldsmith on How to be Happy and Let Go of Guilt
http://www.youtube.com/watch?v=XU7Xy8x9xUo
© 2010 Ryan E. Yip
About ELN Coaching
The mission of ELN coaching is to discover a mutually beneficial relationship between an organization's unique capabilities and what the world needs. ELN Coaching uses BizGym, a branding tool that teaches an organization how to create, manage and evolve its own brand or "company story".
Ryan E. Yip, Ph.D. is a branding strategist who has appeared on Fox News Live giving advice on career transition. He is a designated Expert eZineArticles.com Author and certified as a 360 Reach Personal Brand Analyst. Ryan has taught his personal branding system at the SBA, and various CXO training and career organizations. He assists those wanting to enhance their career possibilities and can work with companies to help improve the productivity of their employees by merging organizational and individual goals.
For more information
URL: http://ELNcoaching.com
E-mail: info(at)ELNcoaching(dot)com
Blog: http://ryaneyip.wordpress.com
Twitter: http://twitter.com/ELNcoaching
Facebook: http://companies.to/ELNcoaching
LinkedIn: http://www.linkedin.com/in/ryaneyip
###