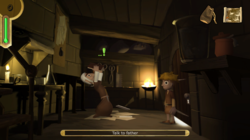 "For many children, our past is unknown territory. By giving them the opportunity to replay history in a fun and interactive environment we aim to change the way children think about history
(PRWEB) January 08, 2012
Serious Games Interactive is proud to announce our groun-breaking and awardwinning Playing History-series to the Ipad. The series is a 3D online adventure game series that focuses on presenting world history in an interesting and engaging way. In "The Plague", the player goes back in time to the 14th century in Florence. The player's mother has been affected by it too and the player must help her survive! Through the game the player explores the city, talks to the inhabitants and discovers different methods for how to cure the disease and prevent it from spreading. All the while, the player must be careful not to catch the disease.
"Playing History is the result of five years of research and development, where our aim has been to create the best educational game possible. We have worked towards finding the right balance between play and learning and we believe we managed that with Playing History." says Mikkel Lucas Overby, commercial director at Serious Games Interactive. "For many children, our past is unknown territory. By giving them the opportunity to replay history in a fun and interactive environment we aim to change the way children think about history, and give them a new understanding of important historical events. Games may be today's dominant entertainment medium but, as we´re demonstrating with Playing History that they're also a powerful tool to develop and expand children's knowledge and competences."
The game integrates learning and playing to engage children and give them a concrete feel for the historical time and setting. The game series also includes "Playing History: Slave Trade", which will be available for iPad early 2012.
Playing History: The Plague is available for iPad in English, German and Danish on the App Store for $6.99.
About Serious Games Interactive
Serious Games Interactive is an award-winning, research-based developer of games, simulations and virtual worlds. SGI offer a unique blend of competences within games, learning and storytelling. Since the company's establishment in 2006 we've developed solutions that integrate learning and game elements with the best possible user experience.
###