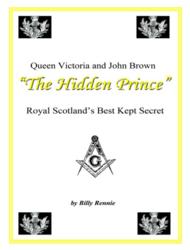 Now available! Electronic downloads from online book stores hits a Global scale!
Aberdeen, Scotland (PRWEB UK) 1 January 2012
"The Romantic Royal secret wedding in the Highlands of Scotland where Queen Victoria and John Brown exchanged wedding vows and brought up their boy child away from the prying eyes of the press and public eye remains the two most striking areas of book content that I have written about to this day." Billy explains: "Granted the lead time to get this paperback is not ideal as the book comes from Dorrance Publishing in the USA but the age of computers has taken me by surprise and changed so much from when I young? Unbelievably, as of the 27th of December 2011, with thanks to my publishers and the online bookstores interest you can now download "The Hidden Prince" in a flash. Its not only available via my publishers website in PDF as you now have the convenience to down load it from Amazon by each country, any Kindle store link, Barns and Noble for Nook, eBooks, and the pick up by other large online bookstores is staggering. If all the book stores follow the same interest and stock this book on the shelves then more people will have the chance to read the hidden truth and all who are interested will have some great reading ahead of them. Some people like an original book in their hands but with downloads for your home computers, laptops, iPods, iPads, kindles, Nooks, and other gadget's you can get on the market you can download the book cheaper and can have it ready to read in seconds. I have seen the scale of my books online availability grow in the last two months and can't wait to see what exposure 2012 will bring so this fascinating history can be brought to many more avid readers." Remembering that this book was published to finally let the truth be told by someone that's "still alive" and profit was never the driver.
###