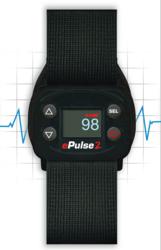 The 30 second intervals keep me focused and my workouts fly by. I'm able to burn more fat and calories than ever before!
Scottsdale, AZ (PRWEB) January 04, 2012
The 30/30 Interval Training® Heart Rate Monitor (http://www.3030intervaltraining.com) is the perfect fitness tool for beginning exercisers, those that have hit a training plateau and those looking to burn fat and lose weight. It's simple to use and walks the user through their workout while tracking and recording progress.
"We have developed a heart rate monitor that does not require use of a chest strap, making it comfortable to wear and easy to use," says Paul Robbins, President of Cardio2Tech. "This is the first strapless heart rate monitor that continuously displays heart rate." Users are able to monitor their heart rate without the need to wear an uncomfortable chest strap or having to press two fingers onto the monitor to read heart rate.
"The 30/30 Interval Training® Heart Rate Monitor also acts as a cardio personal trainer," says Robbins. "The monitor provides 30 second intervals to challenge and motivate the user. Challenging the cardiovascular system will help improve heart rate recovery and cardiovascular endurance. Heart rate recovery is based on how fast the heart rate drops during the rest, or recovery, portion of each interval. This is recorded by your 30/30 Interval Training® Heart Rate Monitor in beats per minute."
All ages and fitness levels can use the included 30/30 programs to burn fat and calories and to increase cardiovascular strength.
The 30/30 Interval Training® Heart Rate Monitor enables the user to:

Perform and record 30 second interval training workouts for beginning exercisers through advanced athletes.
Choose the intensity of the workout. A 30 second rest, or recovery, begins automatically during which the user can decrease exercise intensity to a comfortable level. The goal is to perform a 30 second challenging (high intensity) interval followed by a 30 second recovery.
The 30 second intervals will help keep the user focused on the workout, which will move quickly, keeping motivation high.
The monitor will track heart rate recovery average. This number is what shows cardiovascular improvement. The higher this number is, the faster the heart rate is dropping between exertion and rest and the more fit the user is becoming.
Additional 30/30 Interval Training® Heart Rate Monitor features:

Stop watch
Pedometer
Calorie counter
Personalized heart rate zones
Rechargeable battery
Large, easy to read screen
Strapless, continuous display heart rate monitor
###