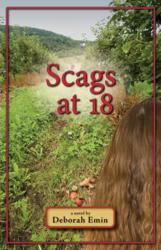 SSP is thrilled to have Scags at 18 available on the Espresso Book Machine.
(PRWEB) January 04, 2012
The launch of Scags at 18 first as an e-book and then as a POD marks a clear departure from e-books only publishing by Sullivan Street Press. The publisher came to this decision based on
the acquisition of the Espresso Book Machine by McNally Jackson Books in Manhattan.
This allows Sullivan Street Press to offer its titles in a new format for those readers who prefer bound copies of books to e-books. McNally Jackson makes it easy to order the POD version of Scags at 18, in fact, it is as simple as ordering the e-book from the SSP website.
The technology behind the Espresso Book Machine is as "green" as that for e-books. Copies are printed only when ordered. No money or fuel or land resources are wasted to have bound books available. Thus SSP now thinks of itself as a Green E-Publisher.
Soon, On Demand Books, the parent company of the Espresso Book Machine will have in place an interface for small publishers to upload their files onto the entire global system. This will make the POD version of Scags at 18 available anywhere an Espresso Book Machine is located.
With that new global reach, all titles published by Sullivan Street Press can be accessed in two ways and in two different formats. What makes this added channel of distribution possible for Sullivan Street Press to promote is the "green" way this particular POD format has evolved.
While Sullivan Street Press continues to add new titles to its list, new authors tell us that this has made them more willing to sign with us. Our website will continue to be the only site where a customer can download any e-book format they want. For now, the POD version of Scags at 18 can be ordered only on this web page: http://www.mcnallyjackson.com/bookmachine/scags-18. (Or the bookstore can be reached by phone during business hours: 212-274-1160 or even greener, walk in. They are located at 52 Prince Street, NY, NY.)
Sullivan Street Press is no longer an e-book only publisher. But SSP is still determined to make publishing as "green" an activity as possible. We also disseminate through our social networking sites the most timely and futuristic writings by as wide array of sources as we can find. By posting a daily dose of all kinds of news that book lovers can use, SSP is also in the business of educating readers about how the publishing paradigm is changing. A free service, this amalgam of political, business, literary and economic trend watching and reporting may be a bit idiosyncratic and progressive in outlook but it is a unique part of our mission as a publisher.
###